by Matz ~ October 4th, 2013. Filed under:
Matz on Sports
.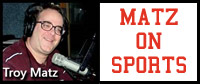 Badger North
Baraboo at Waunakee-Both teams enter play tonight with 1-2 league records and both are badly in need of a win when looking ahead to a playoff berth. With losses in all three non-league games, Baraboo will likely have to win out to get into the post-season as a 3-3 league mark and 3-6 overall probably won't get it done and for Waunakee, if they can get to 3-3 in the conference, they will probably make it in with with what be a 5-4 overall record. Baraboo, 1-5 overall,  got a career best 291-yard rushing effort from Brandon Ennis last week against Mount Horeb-Barneveld as Baraboo put 40 points on the board, including five second half scores, but it was not enough as the high-powered Vikings scored ten touchdowns and amassed nearly 600 yards of offense in scoring 70 points against the Thunderbirds. Baraboo looks to keep that ground game rolling against a Waunakee team that has struggled this year on defense as well, allowing over 200 yards rushing per game and over 23 points per game this season. Waunakee is 3-3 overall after rallying to edge Sauk-Prairie 35-34 last week in overtime with Troy Laufenberg running for 228 yards and four touchdowns with a TD pass as well, almost singlehandedly keying the comeback. Game time is 7 PM at Waunakee High School with pre-game coverage at about 6:45 PM tonight live with Dave Helwig and Travis Zick on your home for Baraboo Thunderbird Sports, 99.7 FM and AM 740-WRPQ Radio!
Sauk-Prairie at De Forest-The visiting Eagles look to rebound from a heart breaking loss to Waunakee a week ago. Sauk led 20-0 in the second period and appeared to be on the verge of their first win over Waunakee since 1994 but the Warriors roared back in the second half and eventually won in overtime 35-34 and the loss drops Sauk-Prairie to 1-3 in the conference and 2-4 overall so the Eagles now must win tonight at De Forest and at home vs Baraboo in week nine to be playoff eligible with a 3-3 league record with a non-league home game next week with Edgewood as well. The Eagles ran for 280 yards a week ago and got some big pass plays as well from QB Paul Zech but some breakdowns from a tiring Sauk defense in the second half spelled doom in the end. De Forest is 2-1 in the conference and 5-1 overall after losing at Reedsburg 17-10 last week with five Norskies turnovers costing them a victory and it was Reedsburg's first ever football win over De Forest. This game is the final road game for Sauk-Prairie in the regular season.
Portage at Mount Horeb-Barneveld-Portage remains winless after a shutout loss vs Stoughton last week as Portage struggles on offense in recent games thanks in large part to major injury problems at the QB spot. Stian Anderson fared well early on for Portage but was hurt in week three and his replacement-Taylor Krocker, got hurt last week while another QB candidate,  Jordan Hall, was hurt in the pre-season. Spencer Smith finished last week's game but Portage is also giving up over 40 points per game, allowing 35 or more in each game. Mount Horeb-Barneveld is 5-1 overall and 3-1 in the conference and they are already playoff eligible. The state ranked Vikings gained nearly 600 yards last week and scored ten touchdowns in a 70-40 win at Baraboo but the Vikings have been vulnerable on defense all season despite the 5-1 record, giving up 26 points per game.
Non-Conference
Reedsburg at Milton-Reedsburg takes a five-game win streak to Milton tonight for their final non-c0nference game of the season. Reedsburg posted a memorable win last week, 17-10 over De Forest in overtime, and it was Reedsburg's first ever win over the Norskies and it keeps Reedsburg atop the league standings at 4-0 and the 5-1 Beavers are ranked sixth in the D-3 coaches poll this week as well.  Dylan Peterson had a pair of 25-yard TD runs and Sam Peterson had three interceptions for the Beavers who have not turned the ball over once in the last two weeks in key victories over Waunakee and De Forest. Milton is 2-4 overall but they have won two in a row with QB Tyler Westrick a dual threat on offense.
South-Central Conference
Wisconsin Dells at Mauston-Dells evened up their league record at 1-1 with a solid 41-20 win over Adams-Friendship last week with the Chiefs now 4-2 overall. Dells had over 400 yards of offense with QB Nate Scott enjoying a big night with 206 yards rushing and he also threw a pair of touchdown passes continuing his steady development as a first year starter. Mauston is 0-2 in conference, allowing 95 points n losses to Nekoosa and to Wautoma. The Chiefs are home to Wautoma and Nekoosa the last two weeks after tonight.
2-0 Wautoma at 2-0 Nekoosa in a first place showdown up north with both teams having scored 36 points or more in each league.
1-1 Westfield at 0-2 Adams-Friendship with Westfield coming off a tight 36-34 loss to Nekoosa
Southwest Wisconsin Conference
River Valley at Richland Center-River Valley is 4-1 in the SWC but lost 40-0 to Lancaster last week as the normally potent Blackhawks offense was shut down. Teams in the SWC play three of their other five confercen rivals twice to fill out an eight-game conference schedule and this is the second meeting between these two rivals with River Valley winning 54-0 in the first meeting with the Hornets, 1-4 in the conference, under 100 yards of offense in that game.
Scenic Bluffs Conference
2-2 Hillsboro at 4-0 New Lisbon with Hillsboro needing two wins over the last three weeks to gain another playoff berth but second place Brookwood and first place New Lisbon tonight remain on the schedule.
2-2 Royall at 3-1 Brookwood with Royall coming off a huge win 34-28 over Bangor to keep their playoff hopes in play.
2-2 Necedah at 0-4 Wonewoc-Center with Wonewoc the only winless team in league play with the Wolves giving up over 50 points each week on the average.
2-2 Bangor at 1-3 Cashton