by Matz ~ October 3rd, 2013. Filed under:
Matz on Sports
.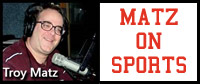 The post-season begins in less than two weeks for high school boys soccer teams around the state and the WIAA Tournament pairings have been announced.
Schools such as Baraboo, Sauk-Prairie and Reedsburg drop down to D-2 this year from D-1 as the overall field has been expanded from three to four divisions. Baraboo has the five seed in their eight-team Regional grouping and they will play at four seed Waunakee on October 15th in the first round as Baraboo faces a team they knocked off in the regular season 3-2. Sauk-Prairie has lost only three matches all yeasr and they are the two seed in this group and will take on seven seed Reedsburg on October 15 but Reedsburg may actually host that match as Sauk's home field does not meet WIAA specifications for Tournament plahy and Reedsburg's does. Sauk edged the Beavers 4-3 earlier this week. Poynette-Portage, from the Capitiol Conference is the six seed in this bracket and will play at three seed De Forest on the 15th with top seed Oregon hosting MG on October 15th as well.
In D-3, Wisconsin Dells has a seven seed in their eight-team Regional and will play at two seed Madison Edgewood on the 15th with the other pairings in that Regional showing six seed River Valley at three seed Lodi, five seed Platteville/Lancaster at four seed Dodgeville/Mineral Point and Badger North leader Mount Horeb is the top seed and will play host to eight seed Monroe on October 15th.