by Matz ~ September 27th, 2013. Filed under:
Matz on Sports
.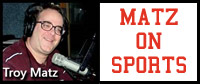 Badger North-Reedsburg improves to 2-2 in Badger North with a 25-17,  25-15 and 26-24 win at Reedsburg with Baraboo now 1-4 in the conference after the loss.  Strong play at the net was key for Reedsburg in set one but a 15-5 lead was trimmed to 21-16 before the Beavers re-established control. Hitting mistakes plagued Reedsburg early in set two but Reedsburg ended with a 10-0 run, taking advantage of some sloppy play from the Thunderbirds. A 6-0 run early in set three had Baraboo up 8-1 but Reedsburg would come back. Baraboo was on the verge of closing out with a 24-23 lead but a service error, the fifth of the set for the Thunderbirds, sparked Reedsburg to a 3-0 run to end the set and the match. Kali Burmester had 28 assists and nine digs and Lynsey Ragenoski 12 kills for the Beavers while Bethani Delmore had 11 kills and Jamie Jensen 27 assists for the T-Birds who play today and tomorrow in a tournament at UW-Oshkosh.
De Forest wins 3-0 at home over Portage 25-18, 26-24 and 25-20 to go 4-1 in the conference with Portage 2-2. Kayla Goth had 20 kills for De Forest and Caitlyn Hibner had 12 kills and Emily Kibby 16 assists for Portage.
Waunakee stays atop the Badger North standings at 4-0 with a 3-0 sweep over 0-4 Mount Horeb last night.
Oregon wins 3-0 over Sauk-Prairie in non-conference action Thursday 25-17, 25-14 and 25-11 with Sierra Suchla posting 10 digs in defeat for the Eagles who play in a tournament at Wisconsin Heights tomorrow.
Weston loses 3-2 at Coulee Region Christian in a non-conference girls volleyball match last night.
Badger Conference Girls Tennis Tournament is today and tomorrow at the Nielsen Tennis Stadium at UW-Madison. Points earned based on the order of finish this weekend combined with points earned with each dual meet win help determine the final overall standings for Badger North and South. Waunakee won the Badger North dual title at 5-0 followed by 4-1 De Forest, 3-2 Baraboo with Reedsburg, Sauk-Prairie and Portage all at 1-4. Baraboo's weekend lineup shows Hannah Shumway, Sabrina Fuller, L iz Schnee and Alyssa Lee at 1-4 singles with the doubles combos of Kelli Kuschman and Kaylee Roberts, Haley Brooks and Gabby Marx and Amy Schlender with Mallory Maxwell. Reedsburg's tournament lineup has Kaylie Polk, Ali Hoekstra, Aly Pfaff and Mary-Kate Dischler in singles with the doubles combos of Laine Greenwood and Emma Greenwood, Shelbi Stowers with Carly Suemnicht and Larissa Jaech with Haley Rockweiler with the Jaech-Rockweiler combo 12-3 on the season. Sauk-Prairie's likely lineup shows Caitlyn Lovelace, Stephanie Frey, Emma Liverseed and Jillian Heintz at 1-4 singles with the doubles teams of Georgia Breunig and Laura Soter, Kaitlin Vieth and Kali Mc Coy and Naomio Gallivan with Natalie Kessenich. Madison Edgewood was the Badger South dual meet champion. Play begins at 9 AM today and resumes at 9 AM tomorrow with the semi-finals, third place and championship matches in all flights.