by Matz ~ September 27th, 2013. Filed under:
Matz on Sports
.
Badger North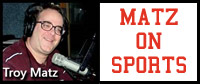 Baraboo returns home for Badger North football action tonight as the Vikings of Mount Horeb-Barneveld pay a visit to Beryl Newman Field. Baraboo enters the evening at 1-1 in the league and 1-4 overall and with three non-conference losses on their ledger, the Thunderbirds will likely need to win three of their final four games to get into the playoffs at 4-2 in Badger North although they would be playoff eligible at 3-3 in the conference. Baraboo played unbeaten Fort Atkinson tough early last week on the road but a 6-6 score at the half turned into a 41-20 loss as the Blackhawks put five touchdowns on the board in the second half and amassed over 500 yards of total offense on the night after Baraboo had played fast aggressive and strong defense the previous two weeks. Baraboo did get their running game going well last week with Brandon Ennis rambling for 155 yards and two TD's on 20 carries and he'll be a focal point tonight against a Vikings defense that has given up over 240 yards per game on the ground this season. Despite that stat, Mount Horeb-Barneveld is still 4-1 on the season and 2-1 in the conference thanks to another high powered offense which has always been the case for the past several seasons. Max Meylor leads the league with 688 passing yards and he has been a strong runner and he's also got North Dakota State recruit Isiah Lesure to throw to as the league's top wideout and he also has two kickoff return TD's this year. The Vikings are scoring 30 points per game and are coming off a 42-20 win over Sauk-Prairie. Mount Horeb-Barneveld is ranked sixth in the D-3 state coaches poll this week.  Join Dave Helwig and Travis Zick for live pre-game coverage around 6:45 PM with kickoff at 7 PM on 99.7 FM and AM 740-WRPQ Radio and fans can watch the TV replay of this game tomorrow morning at 8 AM on My Family TV/43!
Waunakee at Sauk-Prairie-Sauk looks to even up their conference record and overall record tonight and a win would greatly enhance their playoff chances in the process. The Eagles lost 42-20 to Mount Horeb-Barneveld last week with big plays accounting for five of the six of the Mt Horeb TD's while Sauk put up some good numbers offensively as well in the loss which puts the Eagles at 1-2 in the conference and 2-3 overall. QB Paul Zech has thrown for over 540 yards and is the team's leading rusher as well with over 450 yards on the ground to key a rush attack that is averaging 245 yards per game. Sauk is scoring 26 points per game but they're giving up 29 per contest. Waunakee is off to an 0-2 start in league play after losing only two conference games in the last ten seasons before this year and the Warriors are 2-3 overall. Waunakee was shut out at home by Reedsburg last week as a home field win streak of 70 regular season games came to an end and they suffered their first shutout loss in 20 years. Waunakee's Troy Laufenberg has rushed for 720 yards this year with a pair of 200-yard games but had only 13 last week as the Warriors were held to a scant eight yards rushing. Waunakee will have to win three of their final four games to be playoff eligible and they still have unbeaten De Forest on the schedule in week nine. Fans can watch this game live on the Sauk-Prairie Eagle Sports Network at 7 PM tonight with Troy Matz and Eagles alum Tyler Zeman on the call. It's Homecoming Week at Sauk-Prairie High School which celebrates it's 50th Anniversary this week with a school assembly beginning today at 9 AM, boys volleyball at 12:30 PM, the Homecoming Parade at 1:30 PM followed by Powder Puff Football with the Sports Boosters Tailgate today from 4:30 PM to 6:30 PM as well at the high school.
De Forest at Reedsburg-Reedsburg did something they have never done before in football last week and that was win at Waunakee and they look for another program first this week, a victory of any kind over De Forest as the Beavers celebrate Homecoming 2013. Reedsburg dominated last week's game at Waunakee including a 364-8 edge in rushing yards with the stunning result leaving the Beavers at 4-1 overall and atop the Badger North standings at 3-0 and they are aleady playoff eligible with the three conference wins and Reedsburg moves into the D-3 top ten this week in the coaches poll at number nine. Four different players have rushed for over 240 yards for Reedsburg with a 240-yard plus per game average on the ground with the Beavers scoring just under 26 points per game and the defense continues to improve as well with Nate Bergman, Cole Carrig, Nate Runde and Dustin Tourdot leading the way up front with Reedsburg giving up 13 points per game. De Forest was regarded by some as the pre-season conference favorite and the Norskies have not disappointed with a 5-0 record including a 2-0 start in Badger North. De Forest, ranked eighth in the coaches D-2 poll,  returns eight starters from a defense that may have been the league's best last year and they've given up only four scores all year with two shutouts in the conference against high powered Mt Horeb-Barneveld and last week against Portage with RB Lucas Miller and QB Brendan Lapp giving the Norskies good offensive production as well with De Forest scoring around 35 points per game this season.  Homecoming Week in Reedsburg includes the Homecoming Parade today through the downtown at 1:30 PM leading up to the 7 PM kick-off with first place in Badger North on the line.
Non-Conference
Stoughton at Portage-Portage remains winless on the season at 0-5 after a 41-0 loss to De Forest last week and the Warriors are giving up 44 points per game this season with the team dealing with injuries and player shortages. Stoughton is 2-3 overall inlcuding a win over Sauk-Prairie in the season opener.
South-Central Conference
Adams-Friendship at Wisconsin Dells-Dells looks to rebound from lopsided losses the last two weeks. The Chiefs were 3-0 to start the season but they've lost to Lakeside Lutheran and Westfield, two quality opponents, in the last two games by a combined 95-32 score with the Westfield game the league opener for both teams. Opponents have rushed for a combined 740 yards the last two games vs Wisconsin Dells but the offense and speical teams have had their struggles too after a quick start and they look for a turnaround tonight against Adams-Friendship. The Green Devils were winless last season but they do have one victory this season over Weyaweuga-Fremont but the Green Devils are still giving up over 33 points per game and lost 49-0 to Wautoma in the SCC opener last week. Homecoming week in Wisconsin Dells continues today with the pep assembly in the gym at 2:30 featuring introduction of the fall sports teams, performances and games and the announcement of the Homecoming King and Queen leading up to the football game at 7 PM.
Mauston is 0-1 in conference after a 41-6 loss to Nekoosa and they play at 1-0 Wautoma, a 49-0 winner over Adams.
Nekoosa at 1-0 will play at 1-0 Westfield in the feature game of the night in the SCC
Southwest Wisconsin Conference
River Valley goes to Lancaser tonight with both teams 4-0 in the SWC. River Valley lost to Brodhead-Juda in the season opener but have rolled to four easy SWC wins with a 45 points per game average in league play including a 60-7 win over Prairie Du Chien last week. River Valley is 8th in the D-4 coaches poll and Lancaster is first in D-5 at 5-0 overall and the Flying Arrows are scoring 50 points per game with 43 or more in each game. Both teams are already playoff eligible and the winner tonight will clinch a post-season berth. 1-3 Richland Center also hosts 1-3 Dodgeville tonight in the SWC.
Ridge and Valley Conference
De Soto is 2-0 in conference and going on the road to play at 1-1 Weston tonight. Weston is 4-1 overall after a 29-12 win over Belmont last week, their first win over a Six Rivers Conference team in six years. Weston has a league win over Kickapoo-La Farge and a loss to North Crawford in league play and they look good for a playoff berth with an upcoming forfeit win over Seneca and an upcoming game with a Wauzeka team that is struggling with numbers and Weston also has two non-conference wins under their belt as well.
Scenic Bluffs Conference
1-2 Cashton at 1-2 Hillsboro
2-1 Bangor at 1-2 Royall
3-0 New Lisbon at 0-3 Wonewoc-Center
2-1 Brookwood at 2-1 Necedah