by Matz ~ September 26th, 2013. Filed under:
Matz on Sports
.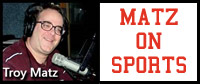 Girls Volleyball: Badger North-Baraboo visits Reedsburg tonight as the conference season continues in Badger North and both teams are coming off conference wins with Baraboo sweeping Mount Horeb 3-0 last week to get to 1-3 in the league with it also being their second dual match win of the week overall while Reedsburg improved to 1-2 with a 3-1 win at Sauk and the Beavers followed that up with a first place finish at the Baraboo Invite Saturday, going 10-2 on the day in six two-set matches. Baraboo also plays tomorrow and Saturday at UW-Oshkosh in a multi-team tournament.
Portage has a chance to move up in the Badger North volleyball standings as the 2-1 Warriors play at 3-1 De Forest tonight with both teams chasing 3-0 Waunakee. Portage was idle in the conference last week but beat Fort Atkinson in a non-conference dual and then placed fourth at the Iowa-Grant Invitational on Saturday. De Forest lost to Waunakee last week. 3-0 Waunakee is at 0-3 Mount Horeb in the other Badger North matchup tonight.
Non-Conference-Sauk-Prairie hosts Oregon tonight in a non-conference match after struggling some at the Middleton Invite. Coach Elenior Engleby's squad is 2-2 in the Badger North season. Sauk will also play multiple matches at the Wisconsin Heights Invite Saturday. The Weston girls have a non-c0nference match tonight at Coulee Region Christian with Mauston at Westfield tonight as well in the South-Central Conference.
Badger Conference Girls Golf: Portage wins the Badger North title in girls golf for the third straight year as the Warriors win the team title in the end of season 18-hole event Wednesday at Lake Wisconsin. Portage won the dual meet title in the regular season and they score 349 yesterday, 44 shots better than second place Waunakee who passes Wisconsin Dells to finish second overall. Dells was third in team scoring yesterday at 401 with Reedsburg and Mount Horeb both scoring 424 with Reedsburg finishing higher overall based on a dual meet win over Mount Horeb a couple of weeks ago. Jayde Curley of Portage was the Badger North medalist yesterday with a 76 and teammate Emily Grunder was next yesterday with an 83 while Natalie Lindman of Portage and Ivy Fedewa from Wisconsin Dells were next at 93 with Reedsburg's Kaylyn Dempsey and Waunakee's Mallory Leppla at 94. Other top area scores included 98 from Tianna De Cora and 101 from Sam Henry of Wisconsin Dells, 104 from Reedsburg's Val Evans and a round of 97 for Portage's Julia White. The all-conference team for Badger North 2013 includes Jayde Curley of Portage, Emily Grunder of Portage, Ivy Fedewa of Wisconsin Dells, Natalie Lindman of Portage along with Mallory Leppla, Sarah Pophal and Aisia Ackard of Waunakee with Curley the overall medalist.  Stoughton ends Madison Edgewood's 12-year reign atop Badger South with a team title yesterday at 326, eight shots better than Edgewood with Tess Hackworth of Edgewood the medalist at 72 with Becky Klongland of Stoughton the overall medalist. WIAA Tournament play begins next week.
UW-Baraboo Sauk County womens volleyball falls to 2-6 overall with a 3-0 loss to UW-Fond Du Lac last night as the Fighting Spirits lose 10-25, 8-25 and 17-25 with UW-Baraboo Sauk County now 0-2 in their division of the WCC schedule.
UW-Baraboo Sauk County is now 4-2 for the s0ccer season with a 3-2 divisional mark after a 3-1 win Wednesday over UW-Fond Du Lac. Jesse Greenwood tallied all three goals for the hat trick for the Fighting Spirits with Josh De Block, Rodolfo Lopez and Mike Lord all earning assists and goalkeeper Colin Scanlon had 5 saves. Both the womens volleyball and co-ed soccer teams for the Fighting Spirits travel to UW-Waukesha for league action on Friday.