by Matz ~ September 23rd, 2013. Filed under:
Matz on Sports
.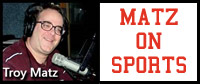 Girls Volleyball: Baraboo places 4th with Reedsburg the champi0n at Saturday's seven-team Baraboo Volleyball Invite. Baraboo won 2-0 in their first two matches against Lancaster 25-16 and 25-22 and overMauston 25-16 and 25-19 before losing 2-0 vs Mc Farland 19-25 and 22-25. Baraboo ended their day with splits in two sets against their final three opponents-Reedsburg, Westby and Richland Center to finish 7-5 in overall sets for the day and in fourth place. Josie Schaefer had 34 kills and nine blocks for the tourney for the Thunderbirds, Bethani Delmore had 66 digs and 16 aces and Jamie Jensen had 103 assists. Reedsburg won the tourney with a 10-2 record, winning 2-0 against four of their six opponents with Richland Center second at 8-4 followed by Mc Farland, Baraboo, Lancaster, Westby and Mauston in that order. Lynsey Ragenoski had 60 kills and Brittany Schyvinck 30 for the Beavers with Kali Burmester at 109 assists and Mikayla Klemm, Schyvinck and Molly Svoboda all had over 30 digs. Baraboo plays at Reedsburg Thursday night.
River Valley places second at Saturday's Middleton Volleyball Invite with Sauk-Prairie also in action. River Valley won Pool E to start the day with victories against La Crosse Aquinas, Madison Memorial and Fennimore and then beat Platteville and Waunakee to reach the finals in the Gold Bracket before going down against tourney champion Madison Edgewood. Sauk-Prairie was 1-2 in their pool play to start with a win over Middleton and the Eagles bowed out later in the Bronze bracket. Sauk hosts Oregon Thursday.
Portage finished fourth in the Iowa-Grant Invite Saturday with a loss vs West Salem in the semi-finals and to Dodgeville in the third place match after going 2-1 in pool play to start the day with wins over Highland and New Glarus and a loss to Iowa-Grant. West Salem won the tournament title. Portage plays next on Thursday at De Forest.
Cross Country: Baraboo wins a third team title already this season in boys cross country by capturing first place for the second year in a row in the Belleville Invite on Saturday. Baraboo's point total opf 26 was easily ahead of runner-up Dogeville/Mineral Point and Marek Sokolowski of Baraboo was the medalist at 17: 27, 29 seconds or more ahead of the rest  of the field with Baraboo having seven runners among the top 12 overall. Zach Solles placed 3rd, Ben Bildsten 6th, Jackson Snow 7th, Joe Brognano 9th, Joe Rausch 10th and Nicolas Lee 12th. The Baraboo girls were second behind Dodgeville/Mineral Point with Isabel Schmelzer continuing her fine efforts of late with a seventh place overall finish overall for the Thudnerbirds while Alex Schwarz, Alyssa Zachzow and Hannah Lee finished together at 12-13-14 for the Baraboo girls. The annual Baraboo Thunderbird Challenge is tomorrow starting at 5 PM.
Reedsburg/Weston had a fourth place girls team finish at the Mount Horeb Cross Country Invite Saturday, trailing champion Madison Edgewood, Waunakee and Mount Horeb and beating out three other schools. Loren Tock led the Beavers with a ninth place overall finish with Katie Kast from Weston placed 13th and Morgan Schyvinck 19th. Reedsburg was last in team scoring on the boys side but Freshman Alex Bautista was 8th overall to lead the Beavers once again. Reedsburg runs at the Baraboo Thunderbird Challenge tomorrow.
Boys Soccer: Reedsburg split two matches Saturday at the Lodi Quad with a loss to Lodi and then ending a six-match losing skid with a 5-1 win over Mauston in the third place match. Reedsburg fell behind 1-0 against Mauston but then took a 2-1 lead by halftime on goals from Garrett Goodwick and Lucas Lavely with both players scoring again in the second half with Alex Wolter scoring the final goal with Reedsburg now 6-6 overall for the season. The Beavers host Baraboo tomorrow night.
Girls Swimming: Milton, River Valley and Portage finished 1-2-3 in the final team standings at the Milton girls swim Invite. Tara Schmudlach won the 50-yard Freestyle and place second in the 100 Free while teammate Maria Wilson was second in the 100 Butterfly and third in the 200 IM for the Portage girls.
Girls Tennis: Today-Portage and Sauk-Prairie close out the Badger North dual match schedule today with a make-up at Sauk this afternoon. Portage is 1-3 for the conference season with a 4-3 win over Reedsburg and Sauk-Prairie is 0-4 in Badger North with the Conference Tournament set for this weekend at UW-Madison.
Tri-City Bulldogs fall to Door County 47-6 in Wisconsin State Football League action Saturday in Monona with the local entry Bulldogs falling to 1-7 for the season with an off week this week.
Dells Ducks Junior Hockey is off to a 2-0 start in the MNJHL season in the Minnesota Division with a 3-1 win and a 7-3 win at Maple Grove over the weekend. Ian Harris had two goals and Robert Meadows made 35 saves in goal Friday for the Ducks and in the Sunday win, Ian Wood and Ian Harris had two goals apiece and Robert Meadows in goal had 22 stops. The Ducks are idle this weekend.