by Matz ~ September 21st, 2013. Filed under:
Matz on Sports
.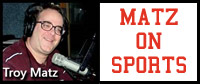 Non-Conference:Fort Atkinson 41-20 over Baraboo-Baraboo falls to 1-4 with the loss while Fort Atkinson improves to 5-0 with a dominant second half. It was a 6-6 game at the half on a 33-yard TD pass from Tony Spink to Collin Feld accounting for the T-Bird score with Brandon Ennis running for 61 yards on that drive as well. Fort kicked two FG's in the first half and had two other drives come up empty deep in Baraboo territory with Noah Larson's interception ending one of them but it was all Blackhawks in the second half. Fort scored five second half TD's with Tyler Zaspel running for three TD's and two of them were from 30 and 59 yards out and QB Brett Behselich had two TD runs as well as the Blackhawks ran for 374 yards in the contest with Zaspel gaining 232 of those yards. Fort finished the night with well over 500 yards of total offense and they did it with their two big weapons-James Nachtigal and Tyler Courtier out of the lineup. Ennis runs for 155 yards for the T-Birds including a 20-yard TD run in the fourth quarter and Spink finished the night with just under 100 yards passing and two TD's, both to Collin Feld. Baraboo is back home to host Moutn Horeb-Barneveld next week.
Weston is 4-1 after a 29-18 non-conference win over Belmont
Badger North:Reedsburg 21-0 over Waunakee as Waunakee's 70-game home field win streak comes to an end. It was Waunakee's first home field loss since the 1998 season and the first time they have been shutout in 20 years and Waunakee is now 0-2 in Badger North, the first time they have suffered two conference losses in one season in their time as a member of Badger North. Reedsburg was in control most of the night with a dominating defensive performance and a big play offense. Waunakee was held to a grand total of eight yards rushing when factoring in QB sacks and less than 150 yards total with QB Tony Helt only 7-23 through the air and the Warriors had only four first downs all night. Waunakee only got inside the Reedsburg 20 twice all night with one drive ending in a turnover and the other on a missed FG attempt. Reedsburg got a pair of 78-yard TD runs from Lucas Muchow and ran for 365 yards in the game with Colton Seamons capping a long scoring drive with his four-yard TD run on the first play of the fourth quarter. Reedsburg's win puts them atop the conference at 3-0 and they are 4-1 overall with unbeaten De Forest going to Reedsburg next week for the Beavers Homecoming game.
Mt Horeb-Barneveld 42 Sauk-Prairie 20-The victorious Vikings pulled away in the second half to go 2-1 in conference and 4-1 overall with Sauk falling to 1-2 in the conference and 2-3 overall. It was only a 14-6 game at the half with Bailey Breunig scoring the Eagles TD on a 5-yard run but the Vikings scored four second half touchdowns with QB Max Meylor throwing for two scores and running for another with a kickoff return TD as well from North Dakota State recruit Isiah Lesure. Austin Lins had a 31-yard TD run and Austin Powell a 71-yard scoring run in the second half for Sauk who ran or 242 yards and had over 330 yards of total offense in the loss. The Vikings had a fairly modest 177 yards on the ground but Meylor was 8-18 passing for 203 yards and three TD's. Sauk welcomes in Waunakee for Homecoming next week as Sauk-Prairie High School celebrates it's 50th year.
De Forest 41 Portage 0-The Warriors remain winless after gaining just 50 yards of total offense including just one yard rushing against the staunch Norskies defense. Lucas Miller ran for 155 yards and three TD's for De Forest while QB Brendon Lapp had 109 yards passing and a TD and Derrick Jennings had an interception return for a score as well  for the Norskies who are 2-0 in the league and 5-0 overall. Portage hosts Stoughton next week.
South-Central Conference-Westfield 42-12 over Wisconsin Dells-Westfield scored on five of their first six posessions in an impressive conference opener with 339 yards rushing for the night. Tanner Akers had 148 yards on the ground and three touchdowns in just nine attempts with Westfield up 35-6 at the half. Nate Scott threw a 15-yard TD pass to Ashton Mace in the first half and a ten-yard scoring strike to Colin Hirst late but it was not enough for the Chiefs although Scott did throw for 146 yards. Dells now sits at 3-2 overall and 0-1 in the SCC with Westfield also now 3-2 overall. Adams comes to Wisconsin Dells for the Homecoming game next week.
Nekoosa 41 Mauston 6
Wautoma 49 Adams-Friendship 0
Southwest Wisconsin Conf: River Valley 60 Prairie Du Chien-River Valley scores nine touchdowns to go 4-0 in the conference with over 330 yards rushing and over 4500 yards of total offense. Jack Radlinger runs for 179 yards and three scores and Trent Schauf had three TD runs as well.
Platteville 56 Richland Center 13- Platteville wins their first conference game with both squads now 1-3 in league play.
Scenic Bluffs Conference-Bangor 30 Hillsboro 26 with Hillsboro n0w 1-2 in league play with two straight losses. Hillsboro led 26-121 midway through the final period but Bangor rallies. Both teams had just under 300 yards of total offense, both teams lost three fumbles and both teams scored four touchdowns but Bangor gets the win to go 2-1 in league play.
Necedah 25 Royall 22 in double overtime as Royall falls to 1-2 in the conference
Brookwood 48-12 over winless Wonewoc-Center and the Falcons were up 41-0 at the half. Brookwood runs for 330 yards and they are now 2-1 in the Scenic Bluffs.
New Lisbon 37 Cashton 6 as New Lisbon remains the only conference unbeaten at 3-0