by Matz ~ September 21st, 2013. Filed under:
Matz on Sports
.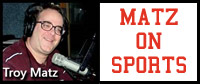 Girls Volleyball: Baraboo hosts a seven-team Invite this morning with play beginning at 8:30 AM. Reedsburg, Fort Atkinson and Richland Center will be among the top teams involved today in what was originally set up for an eight-team tourney but now will have seven teams in a round-robin format. Baraboo enters the weekend with some momentum with wins over Stoughton and Mount Horeb this week in dual match play. Reedsburg also comes in after posting their first Badger North win Thursday at Sauk.
Sauk-Prairie and River Valley will take part in a large field of teams at the Middleton Volleyball Invitational today. Sauk beat Fort Atkinson but lost to Reedsburg in earlier action while River Valley adjusts to the loss of six all-conference players from last year's SWC championship squad but the Lady Blackhawks did win 3-0 over Platteville Thursday. Play begins at 8 AM at Middleton High School.
Portage competes at the Iowa-Grant Volleyball Invite today at 9 AM and the Portage girls played well in a 3-0- win over Fort Atkinson Thursday. Portage is also third in the Badger North with a 2-1 league record.
Cross Country: Baraboo High School sends their cross country teams to the Belleville Invite today at 9 AM. The boys squad is coming off a third place finish at Tuesday's Badger Challenge in Fort Atkinson with Marek Sokolowski in the top ten and Zach Solles and Ben Bildsten were also in the top 20 for the Thunderbirds while Isabel Schmelzer turned in a 12th place finish and set a personal best on the girls side in that meet as well. Baraboo's annual Invitational is Tuesday with six teams taking part.
Reedsburg competes at the Mount Horeb Invite on this Saturday at 9 AM. Reedsburg's girls program is a coop this year with Weston High School as two Weston runners are in the program including Katie Kast who along with Demi De Block and Loren Tock have comprised the big three for the Reedsburg girls. Three different runners have been the team medalist for the Reedsburg boys.
Boys Soccer: Reedsburg looks to snap a five-match losing streak today in boys soccer action at the Lodi Quad at 9 AM. The Beavers started 5-0 with a 14-2 advantage against some of the lesser opponents on their schedule but Reedsburg has faced tough teams during this five-match losing skid and have been outscored 22-1 during that stretch but will face teams today that they may match up with pretty well. Reedsburg's match with Dodgeville Thursday was postponed due to the inclement weather.
Poynette-Portage plays multiple matches at the Berlin Boys Soccer Invite with their first match at 10:15 AM. The United are 6-4 overall after a win at Wisconsin Heights Tuesday in their last action.
Girls Swimming: Portage and River Valley will swim today at the Milton High School Invite at 9:30 AM. Portage has won three of four dual meets and this will be just their second Invite on the schedule. River Valley has fared well early on and they look like one of the top teams in Badger North.
A full weekend at Dells Raceway Park wraps up today and tonight as the September Showdown continues featuring Late Models, Sportsman, Pure Stocks, Bandits and Hobby Stocks with some of the largest payouts of the season. Practice runs begin at 2 PM with qualifying at 5 PM with racing at 7 PM with 13 races tonight and the winners of each one get a payout of 250 dollars or more. Go to dellsracewaypark.com for more information and ticket pricing for today.
Dells Ducks Junior Hockey is opening the Minnesota Division schedule in the Minnesota Junior Hockey League this weekend with two games at Maple Grove, Minnesota. The Ducks were one of only two teams to go 4-0 in the MNJHL Showcase event last week with four wins against teams from the Great Lakes Division, outscoring the opposition 34-9 and Jimmy Buckingham has 10 goals and 15 points total for the Ducks to lead the league in scoring after last week's action. The Ducks will host Maple Grove at Poppy Waterman October 4-6.
The local entry in the Wisconsin State Football League is the Tri-City Bulldogs and they will face Door County tonight. The Bulldogs are 1-6 after a 40-12 loss last week to Outagamie County and the Door County Destroyers are 4-3 coming into the weekend.