by Matz ~ September 20th, 2013. Filed under:
Matz on Sports
.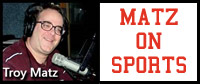 Girls Volleyball: Badger North-Baraboo wins their first conference dual with a 3-0 win over Mount Horeb by scores of 25-20, 25-16 and 25-23 to go 1-3 in the league with Mount Horeb 0-3. Baraboo got a 13-kill, 17-dig pefrormance from Bethani Delmore, 28 assists in a smart match from setter Jamie Jensen and Kaitlin Stieve provided a boost with six ace serves. Baraboo hosts their seven-team Invite tomorrow at 8:30 AM.
Reedsburg wins 3-1 at Sauk-Prairie for their first conference win after two Badger North losses with Sauk now 2-2 in the league. Reedsburg wins the match 27-25, 25-22, 23-25 and 25-15 with Lynsey Ragenoski with 19 kills while Kelsey Mazur added 13 and Brittany Schyvinck 11 and Kali Burmester had 43 assists and Molly Svoboda added 11 digs for the Beavers who play in the Baraboo Invite tomorrow. Sauk-Prairie plays at the Middleton Invitational Saturday. Waunakee also won 3-0 over De Forest in a battle of conference unbeatens with Waunakee now 3-0 in Badger North and De Forest slips to 3-1.
Non-Conference-Portage wins 3-0 over Fort Atkinson in Portage with Caitlyn Hibner's 11 kills and Emily Kibby's 18 assists leading the way. Portage plays tomorrow at the Iowa-Grant Tournament.
South-Central Conference-Wisconsin Dells sweeps Adams 3-0 to go 3-0 in the conference picture with a 25-18, 25-17 and 25-17 victory in the Dells. Jaden Ward had 11 kills and Alex Zapuchlak 14 assists for the Lady Chiefs.
SWC-River Valley 3-0 over Platteville
Scenic Bluffs-Wonewoc-Center knocks off fifth ranked Hillsboro 3-1 Thursday night.
Girls Tennis: Waunakee wins 7-0 over Reedsburg to complete a 5-0 conference dual season with Reedsburg finishing 1-4. De Forest at Baraboo in Badger North was postponed to Tuesday and Portage at Sauk-Prairie was postponed to Monday.
Lake Mills 6-1 over Wisconsin Dells in the Capitol Conference with Olivia Lechnir continuing her fine play with another win at four singles for Wisconsin Dells as they slip to 0-3 in Capitol Conference play.
Boys Soccer: Thursday matches featuring Dodgeville at Reedsburg, Lakeside Lutheran at Wisconsin Dells and Belleville at Poynette-Portage were postponed.
Monroe plays a 7 PM match at Sauk-Prairie tonight with the home team sporting a 9-1 record with nine straight wins. Sauk is also 2-0 in the Badger North season.
Girls Golf: Wisconsin Dells tied Arcadia for the team title at the four-team Raider Invitational at Arcadia with a team total of 389. Cochrane-Fountain City and La Crosse Aquinas were the other schools taking part.
Cross Country: River Valley wins a dual meet Thursday over the Richland Center-Ithaca coop squad with Alec Bass of River Valley the boys medalist.