by Matz ~ September 9th, 2013. Filed under:
Matz on Sports
.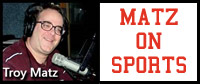 Cross Country: Coach Peter Arndt's Baraboo boys cross country team had another strong showing Saturday, placing fifth overall and first among the D-2 schools at the prestigous Verona Invitational. Only Madison West, Madison La Follette, Madison Memorial and Verona topped Baraboo in team scoring led again by Marek Sokolowski who finished tenth overall individually while Zach Solles, Ben Bildsten and Jackson Snow all were in the top 40 as well for the Thunderbirds. Brian Braun led Wisconsin Dells on the boys side Saturday at Verona with Dells next to last overall in team scoring. The Baraboo girls opened the season at Verona and placed in the bottom half of the standings and fifth among the six D-2 schools with their young squad. Isabel Schmelzer led the Thunderbirds at 35th overall with Alex Schwarz next. Wisconsin Dells beat out three other schools in the team race and got a big performance from Freshman Monica Jaled who was 19th overall.
Boys Soccer: Baraboo snaps a three-match losing streak with a 3-1 home field win over La Crosse Central Saturday afternoon. Ben Geenen had the lone first half goal for the Thunderbirds ten minutes in with Garrett Getgen scoring 16 minutes into the second half for Baraboo with Tyler Laux assisting to put Baraboo up 2-0. The Red Raiders did close the gap to 2-1 six minutes after the Getgen goal but Baraboo put the game away with three minutes left on a Tyler Laux goal. Baraboo had lots of scoring chances and they put three away while allowing just three shots on goal as they improve to 4-4 overall with Baraboo at Waunakee in the Badger North opener tom0rrow. Sauk-Prairie is now 6-1 overall with six straight wins after knocking off Sparta 3-0 Saturday with Juan Elizondo among the goal scorers with David Flores making seven saves in goal for the shutout. Sauk goes to De Forest tomorrow. River Valley plays at Dodgeville today in the SWC.
Girls Swimming: Baraboo wins the team title in the 10-team Janesville Parker Invite on Saturday with a balanced effort throughout the lineup. Baraboo finished third or better in all 10 events Saturday including first's in the 400 medley relay and 400 free relay. The first place medley relay group consisted of Katie Coughlinm, Audra Riem, Natalie Krug and Annika Swallen with the freestyle relay comprised by Coughlin, Sophie Oettinger, Grace Deering and Swallen. Baraboo hosts the Baraboo Relays this Saturday.
Girls Volleyball: Reedsburg won two of five matches at Saturday's Richland Center Invite with victories 2-0 over Mineral Point and Sparta and 2-0 losses to Verona, Lodi and Portage. Rachael Wuensch had 28 kills and Lynsey Ragenoski 22 on the day for the Beavers with Kali Burmester registering 66 assists. Reedsburg is home for a dual match with Mauston tonight at RAHS. Portage won three of five matches at Richland Center with losses to eventual Tournament champion West Bend East 2-0 and vs Wisconsin Dells 2-0 in pool play with an early win over the Richland Center reserves with Portage winning their final two matches vs Reedsburg and La Crosse Logan. Portage meets Reedsburg again Thursday in Badger North action at Portage. Wisconsin Dells also won three of five matches at Richland Center to finish 6th in the 16-team tournament with victories over the Richland Center JV's, Portage and Lodi with the losses coming against West Bend East and Richland Center.
Girls Tennis: Sauk-Prairie wins their second dual match of the season, 5-2 over Holmen. Sauk split four singles matches with Steph Frey winning in three sets at number two and Gillian Heintz a straight sets winner at number four and the Eagles win all three doubles matches with Georgia Breunig and Laura Soter teaming up along with Kali Mc Coy and Kaitlyn Vieth and the combo of Natalie Kessenich and Naomi Gallivan. Sauk is now 2-3 in dual match play this season. Baraboo hosts Lodi today in a non-conference dual at 4:30 PM this afternoon. Baraboo is 2-3 in duals with wins over Stoughton and Sauk-Prairie by lopsided scores of 6-1 and 7-0. Baraboo has also won two doubles events team titles this year as well.
Girls Golf: Only Stoughton and Beaver Dam beat out Portage in the team standings at the 16-team Beaver Dam Invite with Wisconsin Dells 10th and Reedsburg 12th. Emily Grunder's round of 86 led Portage and that was good enough for a fifth place tie in the individual standings with Jayde Curley at 89. Ivy Fedewa again led Wisconsin Dells with a solid round of 96 and Kalyn Dempsey also shot a 96 to lead the Beavers. Portage also competes today at Stoughton.
Dells Raceway Park: Nick Nolden for the Late Models, the team of Dave Trute and Mitch Lyden for the Sportsman division, Travis Hancock in the Pure Stock division and Steven Rozek in the Bandits division are the season points champions for the year at DRP as the season championships event was held Saturday night. Saturday's feature winners included Rich Schumann Jr. in the 50-lap Late Model event, Jerry Junget for the Sportsman, Jeff Burrows in the Pure Stock division and Gary Stark in the Bandits feature on a big night at DRP.
Tri-City Bulldogs fall to 1-5 in the Wisconsin State Football League after a 65-0 loss to the M&M Timberjacks. The Bulldogs have been shutout in all five losses and they are allowing over 50 points per game on the season with a game against the Outagamie County Outlaws this Saturday.