by Matz ~ September 7th, 2013. Filed under:
Matz on Sports
.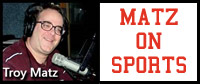 Badger North: Baraboo wins it's first game of the season in Portage by a final score of 35-13. Stian Anderson found Jordan Walker on a 18-yard TD pass to give Portage a first quarter lead but Baraboo came back with two second period TD's of their own on a Tony Spink to Michael Mc Reath 31 TD pass and Matt Bruch's two-yard TD run and Baraboo led 15-7 at the half with the help of a tackle in the end zone for Baraboo's Taylor Henke for a safety. Spink threw two more third quarter TD passes to Tyler Brown from 30 yards out and to Collin Feld from 15 yards out and Baraboo led 28-7 at that point and they go onto their first win of the season. Jack Nelson for Portage and Brandon Ennis for Baraboo closed out the scoring with TD runs in the fourth period but Portage falls to 0-3 overall in losing their league opener. Spink throws for 126 yards and the three TD's while Baraboo was held under 100 yards rushing. Baraboo had allowed well over 700 yards rushing  in the first two games but held Portage to just 78 yards last night and the Warriors had well under 200 yards of total offense. Baraboo hosts Reedsburg Friday with Portage at Sauk-Prairie.
Reedsburg used a big play offense and five interceptions defensively to win their Badger North opener 35-12 over Sauk-Prairie at Millenium Field. Defenses dominarted early until Austin Schyvinck connected with Lucas Muchow on a 78-yard swing pass that went for a TD late in the first period to give the Beavers the lead with Sauk-Prarie scoring on their next posession on Paul Zech's 21 yard TD run, set up by his 50-yard pass to Zach Holler. Reedsburg extended the lead to 13-6 midway through the second period on a beautiful 13-yard scoring strike to the corner of the end zone from Schyvinck to Sam Peterson and Reedsburg would 13-6 at halftime in a first half that saw each team gain only three first downs. The Eagles got their next TD midway through the third period with Zech running in from 24 yards out but Nate Bergman's blocked PAT kick kept Reedsburg in front 13-12. Reedsburg then went on to score thew game's final three touchdowns on a Schyvinck to Dillon Klahn TD pass on fourth down and TD runs from Schyvinck and Colton Seamons with Reedsburg now 2-1 overall with Sauk-Prairie 1-2 to start the season. Schyvinck was 6-8 passing for 165 yards and three TD's with a TD run and the Beavers got their ground game rolling in the second half, finishing with 209 yards. Sauk ran for 222 yards but QB Paul Zech was picked off five times, two each for safeties Cal Mazur and Noah Geffert, while completing just 4 of 18 passes for 120 yards.
Mount Horeb-Barneveld wins 28-21 over Waunakee, their first win over the Warriors since 2002, to put themselves 3-0 for the young season while Waunakee suffers their second conference loss in the last 11 years. It was a tight game throughout with Max Meylor's 29-yard TD run winning it for the Vikings with just over three minutes left. Meyor threw for nearly 150 yards and two scores and had two TD runs himself while Waunakee's Troy Laufenberg rushed 32 times for 212 yards in the loss for Waunakee, now 1-2 to start the season.
Non-Conference: De Forest is 3-0 after rolling 35-6 over Monroe, holding the Cheesemakers to less than 150 total yards while Lucas Miller ran for three TD's with De Forest scoring five first half TD's. The 3-0 Norskies host 3-0 Mount Horeb-Barneveld in a key Badger North showdown Friday night.
Wisconsin Dells is off to a 3-0 start after cruising past Watertown Luther Prep 37-8 in the Dells Friday. It was just a 7-0 game at halftime on a Nate Scott to Ashton Mace 37-yard TD pass but the Chiefs put four TD's and a field goal on the board in the second half to win going away. Scott had another TD toss to Dez Morse and a TD run whuile Max Obois and Robert Goree had long touchdown runs as well. Scott throws for 231 yards and two TD's on 11-16 passing and the Chiefs ran for over 200 yards as well with Obois just cracking the 100-yard barrier on the ground. Luther Prep did gain nearly 3000 yards but scored just once and had three turnovers. Dells faces Lakeside Lutheran Friday in their final non-c0nference game of the season.
Mauston 38 Belleville 35 as Mauston wins their first game of the season
Cambridge 40 Adams-Friendship 0
Marshall 49 Westfield 17
Lodi 19 Wautoma 0
Nekoosa 35 Poynette 0
Southwest Wisconsin Conference: River Valley 37 Dodgeville 17 with QB Beau Solomon completing 15 of 20 passes for 235 yards and two TD's for the Blackhawks who are now 2-0 in league play.
Richland Center 39 Prairie Du Chien 29 as Richland Center notches their first win of the season.
Ridge and Valley Conference: North Crawford 44 Weston 7 with Weston suffering their first loss of the season after scoring 85 points in two games. 3-0 North Crawford has now piled up 146 points this season.
Scenic Bluffs Conference: Hillsboro 19 Royall 12 with Hillsboro off to a 3-0 start while Royall is 1-2 overall.
Cashton 44 Wonewoc-Center 6 with Cashton running for over 300 yards in the contest. Wonewoc-Center is 0-3 and giving up over 50 points per game.
New Lisbon 20 Brookwood 14
Bangor 28 Necedah 16