by Matz ~ September 7th, 2013. Filed under:
Matz on Sports
.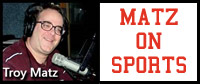 Girls Volleyball: Sauk-Prairie, Reedsburg, Portage and Wisconsin Dells all are in the field at the Richland Center Invite at 9 AM. Sauk is 1-1 in Badger North duals after a 3-0 loss to Waunakee Thursday and Sauk struggled to an 11th place finish at the Janesville Tournament last weekend. Reedsburg fell 3-1 at home to De Forest in their conference opener Thursday despite 22 kills and 15 digs from Rachael Wuensch and 40 assists from Kali Burmester but the Beavers have played only two matches. Portage is 1-1 in Badger North after winning at Baraboo Thursday while the Dells girls are 4-4 overall with a seventh place finish in the 16-team Horicon Invite last week. Weston also plays today at the Ithaca Invite.
Boys Soccer: Baraboo hosts La Crosse Central in a 1 PM match at Beryl Newman Field, out to snap a three-match losing streak. Baraboo has lost to Onalaska, Fort Atkinson and Oregon in their last three outings although the level of opponent lessens today  for the Thunderbirds who are 3-4 overall.
Cross Country: Baraboo and Wisconsin Dells will be two of the approximately 25 schools competing at today's Verona Inviational at 9 AM. It will be the first meet for the Baraboo girls who move on now without two-time Badger North champion, two-time State qualifier and 2012 D-1 State champion Mc Kaela Christenson who won every race she entered during the high school season a year ago. Senior Alex Schwarz and Juniors Hannah Lee and Abby Multerer are the top returnees for Coach Dawn Leaver who will have two Freshman in today's lineup. The Thunderbird boys won the team title at De Forest Thursday with a second place overall finish going to Marek Sokolowski. The Wisconsin Dells girls had a third place team finish at Westby last week in the only meet for the Chiefs so far this season.
Girls Swimming: Baraboo swims at 11 AM today at the Janesville Parker Invite. Baraboo performed well with a tie for 3rd place at the Badger North Relays in Waunakee earlier this week and the T-Bird girls won big in duals over Berlin and La Crosse Logan to begin their seas0n.
Girls Golf: Area schools Reedsburg, Portage and Wisconsin Dells compete at the Beaver Dam Invitational at 1 PM today. Wisconsin Dells won by nearly 30 shots in a conference dual at Reedsburg on Tuesday while Portage is faring well in Badger North at 1-0-1 and outside the conference too led by Jayde Curley and Emily Grunder who both have put up numbers this year that could have them in contention for a State Meet berth.
Girls Tennis: Wisconsin Dells takes part in the Black River Falls Invite today in what will be just their third day of meet competition.
Dells Raceway Park: The regular season points champions wiil be determined tonight as the season championship event will be held. Nick Nolden has a 29-point lead over Rich Schumann Jr. in the battle for the Late Model championship with John DeAngelis Jr. nearly 100 points back in 3rd place. The Dave Trute/Mitch Lyden team is 90 points ahead of second place Cliff Sauey in the Sportsman division with Travis Hancock of Wisconsin Dells holding off the team of Trute and Jimmy Robinson by 37 points in the Pure Stock division. Season long Bandits points leader Steven Rozek has seen his lead shrink to 66 points over John Handlen with third place James Junget exactly 100 points back wirth feature races scheduled in all divisions along with a Bandits challenge race. Fan gates open at 4 PM with qualifying at 5 PM and racing is set for 7 PM as the DRP season winds to a close.
Tri-City Bulldogs are 1-4 in the Wisconsin State Football League with a game on the road tonight at 6 PM against the M&M Timberjacks who lead the North division at 4-1. The Bulldogs, the local entry in the league, have allowed 53 points per game and their only three TD's came in their victory over Kettle Moraine.