by Matz ~ September 6th, 2013. Filed under:
Matz on Sports
.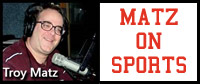 Girls Volleyball: Badger North-Portage wins 3-1 at Baraboo by scores of 25-17, 19-25, 25-16 and 25-23 to go 1-1 for the conference season with Baraboo now 0-2. Portage was strong at the net with blocks and hitting with Courtney Hibner collecting 12 kills while Lane Steinhaus had seven blocks and other Portage stat leaders included Emily Kibby with 25 assists and Hannah Malone with 16 digs. Freshman Josie Schaefer along with Bethani Delmore combined for 27 Baraboo kills with Jamie Jensen at 35 assists and 19 digs. Baraboo goes to De Forest Thursday with Portage at the Richland Center Invite tomorrow.
De Forest is off to a 2-0 start for the Badger North girls volleyball season after a 3-1 victory at Reedsburg. Kayla Goth had 23 kills and five blocks for the Norskies as they win the match 29-27, 18-25, 25-21 and 28-26 in a tightly contested matchup in Reedsburg's conference opener. Rachael Wuensch hd 22 kills and 15 digs for the Beavers with Kali Burmester at 40 assists and Kelsey Mazur had 12 kills. Reedsburg also is at the Richland Center Invite tomorrow along with Wisconsin Dells.
Waunakee is 2-0 in the conference after a 25-18, 25-15 and 25-17 sweep of 1-1 Sauk-Prairie last night. Sierra Suchla had 23 digs and Alexa Henderson 18 assists in the loss for the Eagles.
Boys Soccer: Baraboo played a strong match but fell 2-0 to Oregon Thursday night with Baraboo now 3-4 overall. Baraboo and Oregon, a 2012 State Tournament team, played to a 0-0 tie in the first half before Oregon tallied twice and they owned a 12-4 shots on goal advantage with Heath Eisen making 10 saves in goal for the Thunderbirds. Baraboo hosts La Crosse Central tomorrow at 1 PM.
Derek Maniak scored a hat trick with three goals for Wisconsin Dells boys soccer for the second straight match but Dells lost a 10-3 decision to a strong Lodi program in Capitol Conference play with Dells now 1-1-1 overall.
Poynette-Portage wins their Capitol Conference opener 2-0 over Lake Mills as the United team improves to 4-3 overall with the victory.
Girls Tennis: Badger North-Baraboo wins 7-0 over Sauk-Prairie in the league opening dual for both squads. All four singles wins for Baraboo were in straight sets fashion with Hannah Shumway, Sabrina Fuller, Haley Brooks and Liz Schnee posting wins. Baraboo wins in straight sets at one doubles with Kaylee Roberts and Kellui Kuschman and at number two with Alyssa Lee and Gabby Marx and Baraboo's number three team of  Mallory Maxwell and Amy Schlender won in three sets. Baraboo is 2-3 overall in duals with Sauk-Prairie 1-3.
De Forest edges Reedsburg 4-3 in the Badger North girls tennis opener at RAHS. All of Reedsburg's wins came in doubles with Emma and Laine Greenwood winning at number one, Shelbi Stowers and Carley Suemnicht at number two and Larissa Jaech and Haley Rockweiler at three doubles all winning in straight sets but De Forest sweeps all four singles matches in straight sets as well. The Beavers are now 3-6 overall in nine duals.
Waunakee 7 Portage o in Badger North girls tennis as Waunakee won all seven matches in straight sets in the conference opener for both squads.
Cross Country: Baraboo wins the boys team title in the 13-team Norskie Invite at De Forest in Baraboo's opening meet of the season. Marek Sokolowski was second overall to lead the Baraboo effort with Zach Solles, Ben Bildsten, Jackson Snow, Tyler Fiebig and Joey Rausch all in the top 20 as well. Waunakee was second in team scoring with Sauk-Prairie 4th, Portage 9th, Reedsburg 11th and River Valley 12th. Kyle Herbrand was 10th overall to lead the Sauk-Prairie boys, Jacob Hamm 7th overall for Portage, Mike Harshbarger 31st overall for the Beavers and Alec Bass 17th overall for the River Valley Blackhawks. Berlin and Waunakee finished 1-2 in the girls team scoring at De Forest with Reedsburg 6th, Portage 7th, Sauk-Prairie 10th and River Valley 12th. Lianna Mack of Sauk-Prairie was the overall medalist at 14:58 with Loren Tock's 13th place finish pacing Reedsburg while Warzecha Alexandra of Portage was 12th and Abby Miller of River Valley 41st overall. Both Baraboo teams and Wisconsin Dells run in the 25-team Verona Invite tomorrow.
Girls Golf: Badger North-Wisconsin Dells wins a conference dual 263-292 at Reedsburg Thursday with Ivy Fedewa posting a score of 43 for Wisconsin Dells with the four other golfers all at 56 or less. Reedsburg was led by the round of 50 for Val Evans. Reedsburg, Portage and Wisconsin Dells golf at the Beaver Dam Invitational tomorrow.