by Matz ~ September 6th, 2013. Filed under:
Matz on Sports
.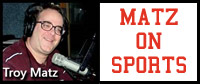 Badger North: Baraboo at Portage-Both teams are looking for their first win of the season with 0-2 starts in non-league action. Baraboo lost in week one 39-19 at Oregon and despite the return of three injured players last week, the T-Birds were thumped by Monona Grove 56-7. MG ran for 320 yards against Baraboo after the Thunderbirds allowed over 400 yards on the ground in the Oregon loss and Baraboo must get things shored up defensively in order to have some success this season. Baraboo's ground game has been led by Brandon Ennis with QB Tony Spink also throwing for over 200 yards and two TD's in week one but Spink was sacked several times last week, limiting Baraboo's offensive production. Portage has lost 49-13 to Monona Grove and 41-7 to Fort Atkinson the first two weeks and the Warriors have given up numerous big plays against some strong opposition, a problem that hurt Portage last year as well. QB Stian Anderson has thrown for nearly 300 yards for Portage but the ground game has suffered and Portage lost five fumbles last week. One of the area's top offensive weapons was to be Portage's Adam Considine but his season came to an end with another severe knee injury last week, his second in less than nine months. Portage won 33-14 last year over Baraboo with game time tonight at 7 PM in Portage with live coverage at about 6:45 PM on 99.7 FM with Dave Helwig and Travis Zick on the call!
Sauk-Prairie and Reedsburg are both 1-1 overall as they begin the Badger North schedule squaring off in Reedsburg tonight. Sauk lost 35-18 at Stoughton in week one before bouncing back in a 28-21 win over Milton, shutting out Milton in the entire second half after allowing three first half scores as the Eagles took advantage of several Milton mistakes. Sauk got over 100 yards receiving and three scores from Bailey Breunig last week while QB Paul Zech has thrown for over 100 yards in each game to compliment a ground attack that produced 260 yards rushing last week. Reedsburg dominated the second half last week in a 31-7 win over Stoughton with Dylan Peterson scoring three touchdowns while QB Austin Schyvinck threw for and ran for over 100 yards, his second 100-yard passing game of the season. Stoughton was also held to under 50 yards rushing by the Beaver defense a week ago after Reedsburg lost 34-27 to Fort Atkinson in the season opener. Reedsburg pulled out a tight decision at Sauk last year in a win Reedsburg needed to sneak into the playoffs. 7 PM tonight at Millenium Field.
Waunakee plays a key conference opener at Mount Horeb tonight. Waunakee bounced back from their opening loss to Edgewood with a 48-7 thrashing of Monroe while the Mount Horeb-Barneveld Vikings are 2-0 after surviving a scare last week in a 46-39 win over Oregon. Waunakee was a D-2 State finalist last year while the Vikings were D-3 semi-finalists. Both teams are averaging 40 points per game or better so far this season.
Non-Conference-De Forest takes a 2-0 record on the road to face Monroe. The 2-0 Norskies have wins over Milton and Edgewood and although the defense is the strength for De Forest, they have scored 71 points in two games. Monroe has been blitzed by Mount Horeb-Barneveld and Waunakee with MG on their schedule next week.
Watertown Luther Prep plays at Wisconsin Dells tonight with Dells at 2-0 to start the season. The Chiefs rallied to win 28-14 in week one over Montello/Princeton/Green Lake and then held off Lake Mills 27-22 last week with a game-winning TD drive in the final minutes. QB Nate Scott ran for over 100 yards in week one and threw for well over 100 yards last week in his first season on the varsity level with Max Obois rushing for 100 yards last week as well but turnovers and penalties are still an issue. Dells has allowed some big plays on defense but have kept teams in check somewhat on the scoreboard. Luther Prep is 0-2 for the season and they feature an option offense and a very aggressive blitzing defense.
Mauston at Belleville
Adams-Friendship at Cambridge
Lodi at Wautoma
Westfield at Marshall
Poynette at Nekoosa
Southwest Wisconsin Conference-River Valley won big in their league opener 54-0 over Richland Center last week and the Blackhawks go to Dodgeville who is 0-1 in conference. River Valley is 1-1 overall after a 17-14 loss to Brodhead-Juda in week one. River Valley's defense held Richland Center under 100 total yards last week. Richland Center hosts Prairie Du Chien tonight as well in the SWC.
Ridge and Valley-Weston and North Crawford are both 2-0 and the two meet at North Crawford tonight in the conference opener. Weston has scored 85 points in two games with QB Devan Boland putting up big numbrs last week in a 51-30 win over Wonewoc-Center while pre-season conference favorite North Crawford has outscored it's opponents 102-12 through two games.
Scenic Bluffs Conference-Royall at Hillsboro with Royall 1-1 overall and 2-0 for Hillsboro with only two TD's allowed so far for the Tigers.
Wonewoc-Center at Cashton
Brookwood at New Lisbon
Bangor at Necedah