by Matz ~ August 31st, 2013. Filed under:
Uncategorized
.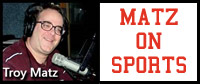 Monona Grove 56 Baraboo 7-Baraboo falls to 0-2 with a loss at home to the powerful Silver Eagles who scored seven first half touchdowns. MG scored on seven of their first eight posessions and took control early, gaining 250 yards of total offense before halftime. QB Tyler Blang had a TD run and a TD pass in the first half for MG and Travis Young had two TD runs early as well along with Brock Offerdahal. Baraboo's TD came on a 38-yard scamper from Brandon Ennis late in the first quarter. Baraboo was productive on offense a week ago against Oregon but the T-Birds were limited to just the one score and modest yardage totals while the defense has now allowed 95 points in two games. Baraboo heads to Portage for the Badger North opener next Friday.
Sauk-Prairie 28 Milton 21-The Eagles earn their first win of the season with the defense shutting out Milton in the second half after an explosive first half offensively for both teams. It was 21-21 at halftime with Sauk gaining close to 300 yards to go along with three scores while the Red Hawks had nearly 200 yards on the ground alone by halftime. Sauk's scoring plays came on 81-yard TD pass from Paul Zech to Bailey Breunig, a five-yard run from Zech and Bailey Breunig's four-yard TD run while QB Tyler Westrick had two TD runs early for Milton. The only score of the second half came on a 55-yard drive for the Eagles on their first series with the help of two critcial penalties deep in their own end of the field with Bailey Breunig scoring his third TD of the night on a one-yard plunge and the Eagles hold on with a forced and recovered fumble from Breunig sealing the win late for Sauk-Prairie. Bailey Breunig finishes the night with 102 yards in receptions with Zech 4 of 7 passing for 143 yards while Sauk also amassed over 260 yards rushing. Milton also ran for over 230 yards but they fall to 0-2 for the season. The Eagles go to Reedsburg for their Badger North opener next week.
Reedsburg 31 Stoughton 7-Reedsburg notches their first win of the season, pulling away in the second half at Millenium Field. It was a 7-7 game in the second period before Dylan Peterson's TD catch from Austin Schyvinck put the Beavers up 14-7 at the break and Reedsburg then scored 17 unanswered points in the second half to win going away. Peterson scored three TD's for the game and two were on receptions from Austin Schyvinck who threw for over 100 yards for the second straight week and he also ran for over 100 yards last night as part of Reedsburg's 230-yard ground attack. Dillon Klahn's TD run and Tyler Arneson's 24-yard field goal completed the scoring. Stoughton ran for over 330 yards last week but the Beavers defense held them to only 47 yards last night and less than two yards per carry and the Vikings only had 153 total yards of offense. Reedsburg is home again to face Sauk-Prairie in week three of the season.
Fort Atkinson 41 Portage 7-Portage loses the game and their top player to injury in their first home game of the season. Adam Considine was back full go for the first time for the Warriors after battling back from a knee injury suffered several months ago but hurt that same knee again early in the game and left in an ambulance. Considine had over 900 receiving yards a year ago. Portage's only score came on Tyler Boodry's 41-yard run in the second half but Portage had less than 250 yards for the night offensively although QB Stian Anderson throws for 135 yards, his second 100-yard passing game in two weeks. Fort built a 41-0 halftime lead with Tyler Courtier scoring on three TD runs while All-State candidate Tyler Nachtigal also had a 59-yard TD run for the 2-0 Blackhawks. Portage has been outscored 90-20 through two games with Baraboo at Portage next week.
De Forest 26 Madison Edgewood 13-De Forest is 2-0 after rushing for over 160 yards and throwing for over 160 as well. Edgewood put 41 points on Waunakee last week but despite gaining over 300 yards offensively, they had just one TD on this night.
Waunakee 48 Monroe 7-Waunakee runs for 360 yards with many big plays including three long TD runs from Troy Laufenberg who had 187 yards on the night. 0-2 Monroe had only 150 yards for the game.
Mount Horeb-Barneveld 46 Oregon 39-Wyatt Thompson ran for 208 yards and had the game-winning TD for the Vikings who rallied from a 39-31 defecit late. Max Meylor had a TD run, a TD pass and 179 yards passing as well for the 2-0 Vikings who had 550 yards of total offense. Oregon QB Jack Krueger threw for four TD's, three to Josh Stromovsky, and had 276 yards passing for the 1-1 Panthers.
Wisconsin Dells 27 Lake Mills 22-Nate Scott connected with Ashton Mace on a 16-yard TD pass with 2:40 left to play to give Dells the win, their second in two weeks. The victorious Chiefs showed good balance offensively, running for 182 yards led by 100 from Max Obois with QB Nate Scott 15-22 passing for just over 150 yards with two TD strikes to Mace. Obois and PJ Flock had TD runs for Wisconsin Dells who scored one TD in each quarter. Lake Mills falls to 0-2 with the loss. Dells hosts Onalaska Luther this Friday.
Fennimore 24 Mauston 14
Poynette 32 Adams-Friendship 6
Westfield 63 Montello/Princeton/Green Lake 20
SWC-River Valley 54 Richland Center o-River Valley allows less than 100 yards with a very strong defensive effort in the shutout win, their first victory of the season. Jack Radlinger runs for 114 yards and three scores, all in the first half,  as the Blackhawks led 28-0 at the half and 48-0 after three quarters. Beau Solomon also had two TD passes for River Valley in the win. 
Weston 51 Wonewoc-Center 30
Hillsboro 27 Kickapoo/La Farge 16-Hillsboro rallies from a 16-0 first quarter defecit to go 2-0 on the young season.
Royall 35 Alma-Center-Lincoln 7