by Matz ~ August 27th, 2013. Filed under:
Matz on Sports
.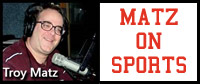 Girls Volleyball: Baraboo opens the season today at the Fort Atkinson Triangular. Second year coach Alyse Karls will have to move on without all-league hitters Sam Terry and Emily Brinker with Terry earning All-State honors as well but setter Jamie Jensen and Bethani Delmore both return as all-league honorable mention selections with Erica Pleau another returning starter. Carli Zimmerman, Jamie Weiland, Kathryn Vander Schaaf, Kaitlin Stieve and Jenna Liebfried are other veterans in tow for coach Karls who likes the overall depth of the squad with several players vying for court time. Baraboo opens the conference season at Sauk-Prairie Thursday.
The Sauk girls go to Stoughton today to kick off their volleyball season. Juniors Alexa Henderson and Lindsay Sauer return as all-league honorable mention players for the Eagles with Caitlyn Mooney, Taylor Buschke and Sierra Suchla other key returnees with Suchla now at Libero as the Eagles look to improve on a 2-10 league record for coach Elenor Engleby.
Wisconsin Dells hits the road at Oregon for their volleyball opener today. Coach Cyndi Collins won another SCC title last year with a 10-0 conference record but Sawyer Cimaroli, Karissa Mace and Brie Frederick depart as all-conference performers. Collins though still returns 1st team all-leaguers in Alex Zapuchlak and Jaden Ward from a year ago along with Ciara Dollar among others. The Weston Silver Eagles girls volleyball team also opens today in a triangular at Cashton.
Boys Soccer: Baraboo goes to Monroe today for their fourth match of the high school boys soccer season at 5 PM.  The Thunderbirds struggled in their opening loss to Beloit Memorial but rebounded in a big way Saturday with a 7-0 win over Logan and a 4-1 victory against Holmen with nine different goal scorers on the day. Baraboo also goes to Onalaska on Thursday.
Sauk-Prairie plays at Reddan Park  against Edgewood in boys soccer action tonight at 7 PM. Sauk opened the season over the weekend with multiple matches at the Waunakee Invite and the Eagles look to Luke Mc Elhenie and Jake Fiene on defense, Ricky Morales and Juan Elizondo up front and Jake Fiene in the midfield as stalwarts. Sauk also plays at Lodi Thursday.
Reedsburg goes to Fort Atkinson tonight at 7 PM with a 4-0 record on the young season with wins over Tomah, River Valley, La Crosse Logan and Holmen, allowing only one goal in the process while Lucas Lavely has scored four goals for the Beavers. Reedsburg plays at Columbus Thursday.
Poynette-Portage hosts Stoughton today and River Valley plays at Platteville as well.
Girls Tennis: Baraboo is 0-2 in duals as they play in Madison today against Edgewood at 4:15 PM at Quann Park. Baraboo won a team title at the Baraboo Doubles Invite, two days after winning the Monroe Doubles team championship. Baraboo beat Portage 5-0, Oregon 4-1 and Monroe 3-2 head-to-head with Kelli Kuschman and Kaylee Roberts going 3-0 at 1A with Haley Brooks and Gabby Marx doing the same at number two for the Thunderbirds.
Sauk-Prairie travels to Milton today at 4:15 PM with Sauk having won 6-1 over Lodi in their dual match opener with Sauk hosting Fort Atkinson Thursday.
Reedsburg heads out on the road for non-conference dual match play at Monona Grove on this Tuesday at 4:15 PM. Reedsburg beat Sparta 7-0 and Mauston 4-3 yesterday to go 3-4 for the dual match season. Aly Pfaff was 2-0 at three singles for the Beavers while all three doubles teams were 2-0-Emma and Laine Greenwood, Carley Suemnicht and Shelbi Stowers and Larissa Jaech and Haley Rockweiler.
Portage plays at Fort Atkinson today in more non-conference girls tennis action.
Cross Country: Wisconsin Dells opens the season today in a meet at Westby. Coach Dean Knetter loses State qualifier Hallie Hackl-Frank from last year's girls squad with Nate Fischer and Jacob Synnott moving on from the boys squad but numbers are way up this fall for the Dells program. Reedsburg, Portage and Sauk-Prairie all open their regular season schedules later this week.
Girls Golf: Portage and Wisconsin Dells will join Reedsburg and six other schools today at 9 AM at the Reedsburg Girls Golf Invite at the Reedsburg Country Club. Portage shot a season best 362 yesterday to place seventh in the 19-team field at the Waunakee Invite with Jayde Curley shooting 78 and Emily Grunder 84.  Wisconsin Dells placed 14th and Reedsburg 17th in the team standings.