by Matz ~ August 24th, 2013. Filed under:
Matz on Sports
.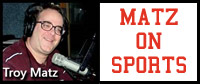 Oregon 39 Baraboo 19-Oregon scored three touchdowns in each half and the Panthers also ran for just over 400 yards against the Thunderbird defense. Baraboo fell behind early 7-0 on a Jack Krueger to Josh Sromovsky TD pass but Brandon Ennis found the end zone for the Thunderbirds a short time later on a 62-yard burst on Baraboo's first play from scrimmage and the Tyler Brown PAT kick made it a 7-7 game but Oregon scored twice in the second period to go up 20-7 at halftime and three more second half scores iced the game for the Panthers. Sophomore Tony Spink did connect with Mike Mc Reath on a ten-yard TD pass in the final period and also found Taylor Henke on anoher scoring pass for Baraboo in the final period with Spink 16 of 25 for 203 yards passing in his varsity debut and those numbers could have been even better if not for some drops from Baraboo recievers and six penalties hurt the cause as well. Ennis ran for 101 yards in the loss but Baraboo could not contain Oregon for the most part with the Panthers gaining nearly 500 yards offensively. Baraboo faces defending four-time Badger South champion Monona Grove at Beryl Newman Field this Friday.
Stoughton 35 Sauk-Prairie 18-Stoughton runs for 338 yards to spoil Sauk-Prairie's season opener in Stoughton. Sauk trailed early 14-0 before Paul Zech's 72-yard TD run and Zeck found Zach Holler on a short TD pass later in the first half but Sauk still trailed 21-12 at the break. Sauk's only score of the second half was a Chris Chrisler TD run but Stoughton wins it. QB Luke Logan and RB Brady Busegar combined for over 230 yards on the ground for three scores for the Vikings while Zech was 7-13 passing for 129 yards and a TD but was intercepted three times for the Eagles and Zech also ran for 11 2 yards in the loss. Nine penalties also hurt the Eagles cause with Sauk-Prairie home to face Milton next week.
Fort Atkinson 34 Reedsburg 27 OT-Reedsburg led for much of the game but Fort tied the game late in regulation time and won it in overtime. Reedsburg built a 20-7 lead by halftime with QB Austin Schyvinck throwing TD passes to Marcus Stanley and Lucas Muchow out of the backfield and running for a score himself but Reedsburg scored only once after halftime on a Lucas Muchow 20-yard TD run, allowing Fort to come back. Tyler Fourtuier's TD run in the final 90 seconds of the fourth quarter tied the game but Reedsburg blocked the extra point kick to force OT. Fort scored on their OT posession on a ten-yard run by QB Brett Behselich while Reedsburg turned it over on their posession. Reedsburg's four turnovers were very costly as were six penalties. The Beavers ran for 210 yards with a balanced effort and QB Austin Schyvinck converted some big pass plays in a 9-12 throwing effort for 137 yards. Two Fort Atkinson QB'S combined for 229 yards through the air with James Nachtigal around 100 yards receiving and Coultier had 101 yards on the ground. Stoughton comes to Reedsburg next week.
Monona Grove 49 Portage 13-MG built a 42-0 halftime lead and cruised to the win with 300 yards rushing. QB Tyler Blang had three TD runs including an 80-yarder and a TD pass for MG while Portage was held to just 56 yards rushing. QB Stian Anderson was 12-24 passing for 148 and two TD tosses to Jordan Walker in defeat for Portage who will host Fort Atkinson next week.
De Forest 45 Milton 7
Mount Horeb-Barneveld 34 Monroe 6-QB Max Meylor threw for 103 yards and two scores and Wyatt Thompson had two TD runs for the victorious Vikings.
Wisconsin Dells 28 Montello/Princeton/Green Lake 14-Dells rallies from a 14-0 first quarter defecit to score the final four touchdowns of the game. Max Obois and QB Nate Scott each had TD runs in the second period for the Chiefs to tie the score and both had TD runs in the third quarter as well with Josh Johnson 4-4 on PAT kicks. Dells ran for 242 yards in the game with Scott gaining 147 yards himself from the QB spot and the Chiefs defense held the opposition to just 210 total yards and controlled much of the game defensively. Dells hosts Lake Mills next week.
Laconia 14 Mauston 6
Adams-Friendship 42 Weyaweuga-Fremont 30-Adams breaks a 22-game losing skid
Edgerton 35 Wautoma 14
Westfield 28 Poynette 26
Nekoosa 23 Omro 19
Brodhead-Juda 17 River Valley 14-River Valley was held to only about 200 yards of total offense in a game that featured strong defense from both squads. Jack Radlinger had TD runs in the second and fourth quarters for the Blackhawks but it was not enough. River Valley hosts Richland Center in the SWC next week.
Westby 28 Richland Center 0
Weston 34 Plainfield Tri-County 25
Hillsboro 40 Alma-Center-Lincoln 0
North Crawford 56 Wonewoc-Center 0
Riverdale 20 Royall 12-Royall had only about 150 yards of offense but Adam Vieth and Brandon Retzlaff had TD runs for the Panthers.