by Matz ~ August 21st, 2013. Filed under:
Matz on Sports
.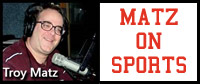 Girls Tennis: Reedsburg loses 7-0 vs La Crosse Central and Logan in La Crosse Tuesday in their first dual matches of the season. All seven matches in each dual were decided in straight sets. Reedsburg will host Assumption and Tomah Thursday in a triangular and they'll host Monroe Friday. Baraboo follows up duals with Logan and Central today by taking part in the Stevens Point Invite at 8:30 AM. Baraboo lost 6-1 to La Crosse Central and 5-2 vs Logan Tuesday with Liz Schnee winning both matches for the T-Birds at three singles with Hannah Shumway victorious at one singles vs Logan.  Portage opened their season Tuesday with a win over Lodi 4-3 with Jayne Hurd, Yue Xin, Kristen South and Kaeleea Lohr all winning singles matches. Portage plays today at the Mc Farland Quad. Wisconsin Dells opens their season at Mauston in a quad tomorrow with Sauk-Prairie hosting Lodi in their opener tomorrow as well.
Boys Soccer: Baraboo opens the season today at 3 PM at Beryl Newman Field vs Beloit Memorial. Coach Sean Breitzman must replace second team all-conference defender Tim Martens along with midfielder Xander Bebber and goalie Eliah Norman among others but several players return with a change in strategy this season focusing on a more aggressive offensive attack to try and boost goal production. Ben Geenen, Garrett Getgen, Evan Uphoff, Tyler Vondran, Doug Mc Donald, captain Jacob Austin and Ian Krsjaniak are some of the veterans that will play leadership roles. Baraboo also faces Holmen and La Crosse Logan Saturday in Reedsburg. Wisconsin Dells and River Valley played to a 2-2 tie in their season opener yesterday with Bryan Ugalde and Michael Maniak scoring goals late in the second half to force the tie for the Dells Chiefs.  Reedsburg plays at River Valley tomorrow with Poynette-Portage at Tomah tomorrow. The Sauk-Prairie Eagles open Friday and Saturday at the Waunakee Invite. Reedsburg opened the season Tuesday with a 3-1 win at Tomah led by two goals from Lucas Lavely and another from Alex Severson and goalie Tyler Dregney made eight saves in net for the Beavers.
Girls Golf: Wisconsin Dells, Reedsburg and Portage will take part again today in the second day of the Wisconsin Dells Invite being played at Trappers Turn. Portage scored an impressive 365 on day one led by the 81 of Emily Grunder and 83 from Jayde Curley. Reedsburg will also play at the Milton Invite tomorrow.
Girls Swimming: Portage opens the season at Beaver Dam tomorrow with the Sauk-Prairie girls at the De Forest Invite on Saturday.