by Matz ~ August 20th, 2013. Filed under:
Matz on Sports
.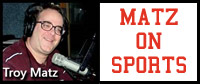 Girls Tennis: Baraboo and Reedsburg both face La Crosse Central and Logan today in La Crosse to begin regular season play at 10 AM.  Baraboo must replace State qualifier Emma Saiz, conference place-winner Jess Carignan and Cahrone Teasdale from last year's Badger North runner-up team but coach Karl Kruse has 18-20 players he feels are capable of playing varsity at some point this season with 40 players overall. Hannah Shumway moves to one singles with Haley Brooks back in the singles lineup while Sabrina Fuller, Kellis Kuschman, Alyssa Lee and Kaylee Roberts all are doubles veterans. Reedsburg loses all of their singles players from last year but they will be strong in doubles with Emma and Laine Greenwood back at number one as a Sectional qualifier with Carly Suemnicht and Shelbi Stowers back at number two as well. Baraboo also plays tomorrow at Stevens Point with Reedsburg hosting a Triangular Thursday. Portage also opens their girls tennis season today at Lodi. Sauk-Prairie starts up at home with Lodi Thursday with Wisconsin Dells at the Mauston quad Thursday.
Boys Soccer: Reedsburg opens the 2013 season today at Tomah at 5 PM. Veteran coach Rich King loses all-league midfielder Jesse Greenwood, Jorge De La Rosa, Cortland Maxfield  and Steve Gavin among others from last year's 8-12 team with several players back in the fold whose roles will increase this season. Coach Nelson Ennis squad opens today for Wisconsin Dells at River Valley in a 5 PM start. Dells continues to see their program move upward and are hoping some close losses in Capitol Conference play can turn into wins this season. Goalie Mike Maniak, forward Derek Maniak and Darius Scholz on defense are team leaders. Baraboo opens tomorrow at home with Beloit Memorial and Sauk opens Friday and Saturday at the Waunakee Invite.
Girls Golf: Wisconsin Dells hosts the two-day 24-team Dells Invite today and tomorrow at Trappers Turn with Reedsburg and Portage both in the field as well. Reedsburg placed 4th and Dells 5th at the Stoughton Invite Monday with one of the two Portage entries second in team scoring behind Mc Farland. Ivy Fedewa, Taryn Alvin, Sam Henry, Tianna De Cora and Vanessa Hinz comprised the Dells group yesterday with Kalyn Dempsey, Becca Reimer, Ali Brunett and Alison Fry playing for Reedsburg. Christmas Mountain hosts the two-day affair for the Jayvee squads,