by Matz ~ August 19th, 2013. Filed under:
Matz on Sports
.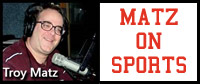 The calendar still says August but regular season openers for many area high school fall sports teams are this week. In boys soccer, Reedsburg opens Tuesday at Tomah with Wisconsin Dells at River Valley that day as well. Baraboo opens at home with Beloit Memorial Wednesday with Poynette-Portage starting up on Thursday and Sauk-Prairie Friday at the Waunakee Invite. Reedsburg will also play Thursday at River Valley and Reedsburg and Baraboo both will face Holmen and Logan in Reedsburg Saturday with Poynette-Portage in a tourney Saturday as well.
Baraboo and Reedsburg both play La Crosse Central and Logan in La Crosse Tuesday to kick off the girls tennis season with Portage opening that day at Lodi while the Dells girls start up under new coach Gwen Finnegan Thursday at the Mauston Quad. Baraboo also plays Wednesday at Stevens Point and Saturday at the Monroe Doubles Invite while Reedsburg hosts  Tomah and Assumption Thursday and Monroe on Friday. Portage also has matches Wednesday and Saturday after the Tuesday opener and the Dells girls go to Edgerton Friday as well. Sauk-Prairie begins their girls tennis season Thursday hosting Lodi.
Portage travels to Beaver Dam Thursday for the season lidlifter in girls swimming and Sauk-Prairie hits the pool Saturday at the De Forest Invite.
Friday marks opening night for the area high school football teams for the 2013 season with Baraboo at Oregon, Sauk-Prairie at Stoughton, Reedsburg at Fort Atkinson, Portage at Monona Grove, Wisconsin Dells at Princeton-Montello, Weston at Plainfield Tri-County and River Valley hosting Brodhead-Juda among the matchups for area teams.