by Matz ~ August 19th, 2013. Filed under:
Matz on Sports
.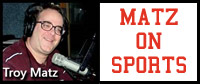 Sauk-Prairie bows out of the post-season in Sunday League Home Talent Baseball in the Northern Section Sunday with a 5-4 loss at home to Middleton. Sauk led 3-1 after four innings but Middleton tied the score in the fifth, each team scored in the sixth and Middleton pushed across what would be the game-winning run in the seventh as Middleton advances to the Final Four in the Sunday League playoffs. Matt Katzman started on the mound for Sauk but was replaced by Paul Lenerz in the fifth with Lenerz taking the loss. Middleton out-hits Sauk 10-6 and Sauk had four errors defensively. Jeremy Meier had two hits in the loss for Sauk-Prairie. Middleton, Stoughton, Verona and Monona comprise the Final Four but Sauk is in the Night League Playoffs Final Four with Middleton, Monona and Orfordville with Sauk facing Orfordville Thursday in Beloit in the Semi-Finals.
NASCAR veteran and Wisconsin native Travis Sauter won the 100-lap Super Late Model  feature-the Habelman Cranberry 100 Saturday night at Dells Raceway Park. Sauter edged out Mike Bilderback and Brian Johnson Jr for the win and other feature winners included Sandy Cook for the Sportsman division, Dean Pennel for the Pure Stocks and Steve Rozek for the Bandits. The Allison Legacy Cars are part of the night of racing this Saturday night at DRP.
The local entry in the Wisconsin State Football League, the Tri-City Bulldogs, had a rough night Saturday in a 69-0 loss to Sheboygan County at Warner Park in Madison. The Bulldogs are 1-3 overall now and will host Manitowoc County Saturday night again at Warner Park.