by Matz ~ August 5th, 2013. Filed under:
Matz on Sports
.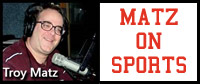 Wisconsin Dells does not repeat as State Class A Legion baseball champions after being eliminated by Waupun 9-5 Saturday night. Dells started the tourney 2-0 with wins over Nekoosa and Clintonville but lost 10-2 to Viroqua Friday night with Billy Percival taking the loss with a six-run sixth inning breaking the game open for Viroqua. Dylan Moore and Tanner Rabuck had two hits each while Colyn Buss and Billy Percival had rbi's for Dells. Dells then met Waupun Saturday night in an elimination game and came up short 9-5 to end their season. Waupun grabbed a 5-0 lead on nine base hits against Ashton Mace through the first three innings before Dells tallied twice in the fourth with Hunter Hintze's rbi single accounting for one of the runs. Wisconsin Dells closed the gap to 5-4 in the fifth with Billy Percival's rbi single the only hit of the inning. Wapun though scored two in the sixth and two in the seventh to win 9-5 with an impressive 17-hit attack. Billy Pericval, Hunter Hintze and Ashton Mace all had two hits each in a nine-hit Dells attack offensively with Mace taking the loss on the mound, working the full seven innings. Another terrific season for Wisconsin Dells Legion baseball ends with a final record of 20-4 overall. Waupun beat Viroqua 8-4 and 11-4 Sunday to win the State title but Viroqua will also advance with Waupun to the Central States Regional in Pratt Kansas this week. Jordan Dane of Waupun was named MVP of the State Class A Tournament with Dylan Moore of Wisconsin Dells part of the All-Tournament team.
Ash Port edges Plover 2-0 in the championship game of the Class AAA State Legion Tournament in Marinette while four teams remain in the Class AA State field-River Falls, Sturgeon Bay, Menasha and Beaver Dam with Beaver Dam in the drivers seat with a 3-0 record.