by Matz ~ August 2nd, 2013. Filed under:
Matz on Sports
.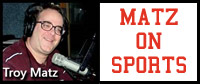 Wisconsin Dells is off to a 2-0 start in the State Class A Legion Baseball Tournament in Viroqua after knocking off Clintonville 7-3 Thursday night, giving them just their second loss of the summer. Billy Percival was hit by a pitch in the Dells second and came around to score on an error to tie the game at 1-1 at that point and Clintonville took a 3-1 lead in the top of the sixth with two runs on three hits before Dells exploded for six runs in the bottom half of that inning. An error brought home the first run and Ashton Mace's two-run single gave Wisconsin Dells the lead for good at 4-3. Tanner Rabuck, Nick Percival and Rathorn Scholz all had rbi hits later in the inning and Dells wins it to go 20-2 for the summer. Dylan Moore had two of the seven hits for Wisconsin Dells with Dells also making just one error defensively. Colyn Buss threw 120 pitches in a complete game performance to get the win on the mound for Wisconsin Dells, allowing six hits with just one walk and seven strike-outs with Clintonville falling to 19-2 overall. Dells will face 38-11 Viroqua tonight at 8 PM in the winners bracket game with Viroqua also 2-0 in the tourney with a 14-1 win over Altoona and a 6-1 win over Waupun Thursday night. Nekoosa lost to Chilton and Altoona lost to Westby so those teams are out of the field with the Friday schedule showing Westby vs Clintonville at 2 PM and Chilton vs Waupun at 5 PM in elimination games followed by the Dells-Viroqua contest at 8 PM. Wisconsin Dells is the defending Class A State American Legion baseball champions.
Madison Impact and Kimberly are the first teams eliminated from the Class AAA State Tournament in Marinette with Ash Port and Beloit both off to 2-0 starts in the tourney. The Class AA State Tournament begins today at Luxemberg-Casco High School with Menasha vs River Falls, Holmen vs Merrill, Beaver Dam vs Waupaca and Sturgeon Bay vs Kewaunee County the first day pairings.