by Matz ~ August 2nd, 2013. Filed under:
Matz on Sports
.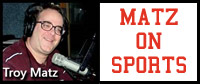 Wisconsin Dells continues in their quest to repeat as State Legion baseball champions in Class a as the State Tournament continues in Viroqua. Entering Friday night, Wisconsin Dells was off to a 2-0 start in the tournament as was Viroqua, the host team.
The first round of the Northern Section Sunday League Home Talent Baseball Playoffs begins with eight seed Richland Center at top seed Sauk-Prairie, seven seed Cazenovia plays at two seed Black Earth, six seed Cross Plains makes the short trip to face three seed Middleton with Reedsburg as the four seed hosting five seed Ashton. Sauk and Richland Center split their two regular season meetings while Black Earth beat Caz in the regular season, Middleton was 2-0 vs Cross Plains and Reedsburg won big over Ashton. All game times Sunday are 1 PM. Portage is 9-8 in Eastern Section play in the Sunday League and the Skeeters close out the season at home with Lodi Sunday.
Racing in the Late Model, Sportsman and Bandit divisions will be on display along with a Bandit challenge race and the American Super Cup Cars at Dells Raceway Park this Saturday night with fan gates opening at 4 PM, qualifying at 5 PM and racing at 7 PM. Any car load of fans that arrives by 6 PM will be admitted for a collective total of 35 dollars for the whole group but they must arrive by 6 PM. Track points leaders are Rich Schumann Jr for the Late Models, Dave Trute and Mitch Lyden for the Sportsman, Travis Hancock for the Pure Stocks and Steve Rozek for the Bandits as head into the month of August.
The local entry in the Wisconsin State Football League, the Tri-City Bulldogs, ae idle this week and will have a home game August 10th at Webb Field in Reedsburg. The Bulldogs are 0-2 and were shut out in both games to start the season.