by Matz ~ July 25th, 2013. Filed under:
Matz on Sports
.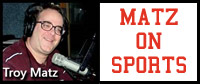 Baraboo meets Tomah in their first game of the Sparta Regional today at 2:30 PM in Legion baseball action. The Bandits are 8-13 overall but Baraboo ended the regular season with wins in three of the final four games. Clay Hinz is expected to get the start on the mound today for the Bandits against a Tomah team that edged Baraboo 7-5 on a rainy day in June at Mary Roundtrtee Evans Field. State ranked Onalaska meets the La Crosse North Stars in the Noon game with Sparta facing defending champion Holmen in the 5 PM game today. Play continues tomorrow in the double elimination game with Baraboo playing at Noon if they lose today and at 5 PM if they win.
Wisconsin Dells beat Black River Falls 5-2 in their first game of the West Salem Regional in Class A Legion baseball Wednesday and will face West Salem in the winners bracket at 6 PM tonight. Dells has just two losses all summer after winning the State Class A title last year.
Portage faces De Forest at 5:30 PM tomorrow in Union Grove as part of a four-team Legion baseball Regional Tournament there with Portage 14-9 for the summer.
Reedsburg's U-12 baseball team is now 3-1 at the State Tournament in Waupun after a 10-0 drubbing of Whitefish Bay Wednesday. A win today in a make-up game with Appleton would put Reedsburg in the State title game tomorrow against Burlington who is 5-0 in the tourney including an 11-1 win over Reedsburg Sunday. The winner of this event advances on to play in a Regional U-12 youth baseball tournament in Indianapolis next week.
Reedsburg at Cazenovia is one of the matchups tonight in Western Section Night League Home Talent baseball with a 7:30 PM start. The two teams split a pair of Sunday League matchups this summer and will likely square off again in round one of the Sunday League playoffs on August 4th. Sauk-Prairie leads the Western Section Night League standings with just one loss and the Twins are at Wisconsin Dells tonight with Mazo at Black Earth while Plain visits Richland Center tomorrow night.