by Matz ~ July 24th, 2013. Filed under:
Matz on Sports
.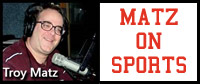 It's the final home game of the season tonight for the Baraboo Thunder U-16 girls softball team as Pierce Park field three hosts a game between the Thunder and the Mad City Crush from Madison at 6:30 PM. The Thunder U-16 girls also play multiple games this weekend in a tournament in Columbus before closing out the regular season slate next Wednesday at Verona.
The Baraboo Thunder U-14 girls won Monday 4-3 over River Valley at Pierce Park with Alisyn Amant the winning pitcher while Jodi Halvorson and Brianna Digamnn had two hits apiece. The U-14 girls also will play in that tournament in Columbuis this weekend.