by Matz ~ July 22nd, 2013. Filed under:
Matz on Sports
.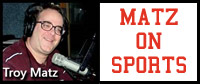 Baraboo's Junior Legion baseball squad had a good run this past week in the Tomah Regional as the Bandits finished second in the six-team field. After splitting their first two games, Baraboo won 9-5 over Nekoosa Friday in a solid all-around performance with TJ Wagner pitching a complete game to get the win while banging out two doubles offensively. Matt Munneke had three hits and the Junior Bandits thus reached the championship round where they lost 11-1 Saturday vs West Salem. Baraboo had only three hits with Trevor Hanson taking the loss on the mound. Members of the Baraboo Bandits Junior Legion team for 2013 included TJ Wagner, Matt Munneke, Trevor Hanson, Wyatt Zalewski, Levi Baerwolf, Ben Kuester, Ethan Vodak, Kody Seipp, Ethan Wilkinson, Jarrett Benson, Chase Pierce, Ryan Reuter, David Meier and Austin Kephart and Eric Hanson served as Head Coach.
Baraboo Bandits Senior Legion baseball will not play their scheduled game with Randolph tonight and now look to the Sparta Regional which begins Thursday with Baraboo vs Tomah at 2:30 PM in their first game.
Reedsburg's Senior Legion baseball season ended Saturday with a loss to Fort Atkinson at Fort Atkinson 12-5 in the semi-finals of the State Line League playoffs. Reedsburg won their first game of the weekend 9-8 over Watertown Luther Prep with Nate Runde delievering a game-winning rbi single in the last of the seventh to score Steve Gavin. Lucas Muchow and Blake Zibell had three hits each and Runde and Gavin had two apiece. Payton Sterkowitz was the starting and winning pitcher. Fort Atkinson then knocked off Reedsburg 12-5 on Saturday with an impressive 14-hit offensive performance. Steve Gavin suffered his only loss of the summer on the mound but did have two hits at the plate as did Blake Zibell as part of Reedsburg's nine-hit attack. Reedsburg ends the summer 13-5 overall, highlighted by a Western Division title in the State Line League. Team members included Steve Gavin, Nate Runde, Payton Sterkowitz, Blake Zibell, Sam Peterson, Jordan Bill, Lucas Muchow, Ty Brandt, Justin Lankey, Ryan Holtz, Darrin Bormett, Nic Gurgel, Colton Seamons, Nolan Tucker, Wyatt Rabuck, Andrew Schulenberg and Brady Nehring with Head Coach Tom Gavin, Steve Zibell, Doug Gurgel and Phil Peterson filling out the Reedsburg coaching staff.
Reedsburg's U-12 baseball squad is in the State Tournament in Waupun and stands at 1-1 so far with a 12-7 win over the Eau Claire Nationals Saturday followed by an 11-1 loss to Burlington yesterday. The six district champs at State play a round-robin five games over five days and the top two teams meet at the end of the week for the State title. Reedsburg U-12 team members include Wyatt Molitor, Mason Mc Millen, Kyle Fowler, Hayden Hahn, Dakota Dietrich, Adam Belk, Caleb Lindholm, Evan Carlson, Jacob Dregney, Kaleb Mueller, Jon Zobel and Spencer Reinecke with Mike Hahn, Tim Mc Millen and Mark Zobel the coaches for this State Tournament group.
Games were played Saturday and Sunday this past weekend in Northern Section Sunday League Home Talent Baseball. Saturday action saw Reedsburg defeat Richland Center 8-6, scoring the winning runs in the top of the ninth. Matt Lennon was 3×3 for Reedsburg and drove in the go-ahead run in the ninth while Lucas Gudenscwager also had three hits for 11-4 Reedsburg. Sam Seymour was the third Reedsburg pitcher and got the win, following Ben Syverson and Cam Bauer. James Knower had three hits for Richland Center. Mazo also beat Plain Saturday 7-2 to continue their surge towards a possible playoff spot. Ashton won a make-up game over Montello and Cazenovia was also scheduled to play at Sauk-Prairie on Saturday night. Caz won on Sunday with a 4-1 rain-shortened victory at Richland Center. Sam Overlein pitched a five-hitter to get the win with Todd Weinkes also allowing five hits as the losing pitcher. Nick Ihde had two hits for 7-6 Caz as Richland Center falls into a fourth place tie in the West division with Mazo at 6-9 with one game left. Also on Sunday, Cross Plains edged Black Earth 7-6, Waunakee was a 4-0 winner over Montello and Middleton crushed Ashton 21-5. Sauk leads the East at 11-2 over 11-4 Reedsburg and it's now Black Earth and Middleton sharing the top spot in the East at 11-4 with Ashton also in the mix at 10-4. Portage won 5-1 over Rio in the Eastern Section on Sunday with Shaun Corning pitching a complete game three-hitter with ten strike-outs as Portage improves to 8-8, good for a tie for fifth place in the Eastern Section.
New Berlin West wins the WIAA State Summer High School Baseball Tournament on Friday in Mequon, defeating West Bend West 11-6 in the final for their first ever State baseball crown.