by Matz ~ July 20th, 2013. Filed under:
Matz on Sports
.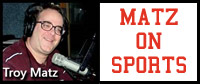 Baraboo's three-game win streak ends in SeniorLegion baseball with a 9-5 loss at Portage. Clay Hinz took the loss as the starting pitcher for the Bandits,allowing eight runs, seven earned,in less than four full innings with Portage collecting 10 hits for the night. Jorda Walker was the first of three Portage pitchers and got the win, allowing two runs. Baraboo out-hit Portage 12-10 with Clay Hinz 4×4 and Matt Meyer and Griffin Nicksic each 2×4 for Baraboo with Brett Lentz collecting two hits for Portage with Ty Miller driving in three runs and Jordan Walker two. Baraboo is 8-13 for the saummer and now looks to Regional Tournament play in Sparta which begins Thursday as Baraboo meets Tomah in round one while Portage takes a 14-10 record into a Regional Tournament in Beaver Dam whcih begins Friday vs De Forest.
Baraboo's Junior Legion baseball squad kept their season alive with a 9-5 win over Nekoosa in the Tomah Regional.The Bandits are now 2-1 for the tourney and 4-13 overall and have guaranteed themselves a top three finish in the tourney and depending on results from last night's action, could be in the championship round today, needing to win two games to advance.
The players from the Northern and Western Section won 16-10 over players from the Eastern and Southeastern Section in the Home Talent Baseball Sunday League All-Star Game at Warner Park, home of the Madison Mallards. Cazenovia's Kalen Mace was the winning pitcher, throwing three scoreless and hitless innings with two strike-outs as the former Wisconsin Dells standout had the best outing of any pitcher. Myles Potuznik, a Baraboo alum, threw a scoreless inning as well in relief representing the Black Earth team.