by Matz ~ July 12th, 2013. Filed under:
Matz on Sports
.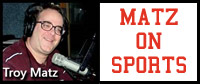 Baraboo won their sixth game of the summer in Senior Legion baseball Thursday, knocking off Wisconsin Dells 5-0 at Mary Roundtree Evans Field. Clay Hinz pitched Baraboo to the shutout victory, coming up with some key outs as Dells left two men on base or more in three different innings without scoring. Hinz ends up with a four-hitter with four waks and nine strike-outs in a 117-pitch complete game performance. Andrew Thompson's two-run double was the key blow in a three-run third inning for the Bandits with Hinz and Jameson Traxler delivering rbi hits in the Baraboo fifth inning as well. Thompson had two hits on the evening with Hinz driving in two runs as well with Baraboo out-hitting Dells 8-4. Colyn Buss was the starting and losing pitcher for Wisconsin Dells, allowing five runs on eight hits with one walk and eight strike-outs, with Dells now 8-2 for the summer. The Bandits are now 6-12 overall with their next game tomorrow afternoon at 4:30 PM vs New Lisbon to be followed by the annual Baraboo Bandits Alumni game around 7:30 PM with all the action at Mary Roundtree. Baraboo's Regional Tournament opener is Thursday July 25th at Sparta against Tomah as part of a six-team Regional. Wisconsin Dells will be in a six-team Regional at West Salem the week of July 22nd.
Baraboo Bandits Junior Legion baseball hosts Portage tonight at 7 PM at Mary Roundtree in a make-up game from a previous rain-out. Baraboo lost at Portage last Friday 5-1 and will also host Wisconsin Rapids in a DH Sunday at Mary Roundtree at Noon.
Reedsburg takes an 8-1 record into a home game with Mount Horeb tonight in Senior Legion baseball with a 6 PM start at Nishan Park. Reedsburg lost 3-1 to De Forest Tuesday in their first setback of the season but they also defeated Cottage Grove 5-0 that same night in the State Line League Inter-League Tournament. Reedsburg will not play in any Regional Tournament at the end of the month.