by Matz ~ July 11th, 2013. Filed under:
Matz on Sports
.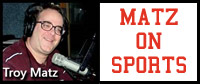 Baraboo hosts Wisconsin Dells tonight in Senior Legion baseball at Mary Roundtree Evans Field at 7:30 PM. The Baraboo Bandits are 5-12 overall for the summer and this will be their first game this week after a postponement at Tomah Tuesday night. The Bandits went 1-4 over the weekend at their Summer Classic Tournament. Wisconsin Dells is 8-1 for the summer after a lopsided win over Mauston last week and Dells won the Class A State title last year and many of those players are back in the fold again this summer. Baraboo will also host New Lisbon Saturday at 4:30 PM followed by the Baraboo Legion baseball Alumni game at 7:30 PM that night as that event was rained out on it's original schedule date of June 22nd.
Baraboo hosts Wisconsin Dells in Junior Legion baseball tonight at 5 PM at Mary Roundtree with Baraboo coming in at 2-8 for the season. The Bandit Juniors also host Portage Friday night at 7 PM in a make-up game. Baraboo's Junior Legion team will play Sparta in Tomah Wednesday in their first game of the 6-team Regional Tournament.
Cazenovia routs Portage 10-1 Wednesday in Night League Home Talent baseball action. Portage had just three hits against winning pitcher Sam Overlein who struck out eight in a complete game pitching performance while Brad Johnson took the loss as the first of three Portage pitchers. Caz broke the game open with a five-run seventh inning and they had ten hits for the game including two apiece for Jared Fish, Nate Ihde and Cole Duren. Western Night League games for tonight include Wisconsin Dells at Reedsburg, Dodgeville at Black Earth and Richland Center at Mazomanie. Sauk-Prairie and Plain have byes tonight with Sauk the Western Night League leader at 5-1 and the Sauk-Prairie Twins also lead their division in the Northern Section in the Sunday League.