by Matz ~ July 10th, 2013. Filed under:
Matz on Sports
.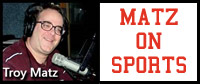 Baraboo was rained out in their Senior Legion baseball game at Tomah Tuesday night and the game will likely not be made up. The 5-12 Bandits are home Thursday night to face Wisconsin Dells at 7:30 PM and will also host New Lisbon Saturday at 4:30 PM in a game just added to the schedule and that contest will be followed by the make-up of the Alumni game which was rained out on June 22nd.
Baraboo's Junior Legion baseball team is 2-8 with their next game Thursday at 5 PM at Mary Roundtree against Wisconsin Dells and the Junior Bandits also host Portage at 7 PM Friday in a make-up game at Mary Roundtree Evans Field.
Reedsburg's Senior and Junior Legion baseball squads are both taking part in the Inter-League Tournament for the State Line League this week with the Senior team 7-0 entering the week with the Juniors at 12-2.
Baraboo Thunder U-16 girls softball hosts Beaver Dam tonight at 6:30 PM at Pierce Park as they begin to wind down their 2013 schedule.