by Matz ~ July 9th, 2013. Filed under:
Matz on Sports
.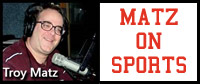 Five Baraboo Thunder girls softball teams continue their summer seasons tonight with Pierce Park in Baraboo hosting most of the action. Coach Dave Haseley's U-12 South-Central League team plays at Portage tonight at 6 PM against Portage Black while the U-12 Local League team, headed up by Rich Sefkar, meets Wisconsin Dells at Pierce Park field three at 7:15 PM. The Baraboo Thunder girls softball U-1o Black team hosts Wisconsin Dells White at Pierce Park field three with Pierce Park field four hosting a game between Dells White and the U-10 Teal squad. The Baraboo Thunder U-10 Silver team plays at 5:30 PM at Captain Bob's in the Dells vs Wisconsin Dells Royal.
The Baraboo Thunder U-16 girls play next on Wednesday night with the Baraboo Thunder teams also looking to this weekend's Baraboo Thunder Classic Tournament with three U-10 teams, two U-12 teams and one for U-14 and for U-16 all representing the Baraboo Thunder in a field of 26 teams total with games at Pierce Park Friday, Saturday and Sunday.