by Matz ~ July 5th, 2013. Filed under:
Matz on Sports
.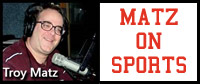 A full slate of Sunday League Northern Section Sunday League Home Talent Baseball games were played yesterday on the fourth of July and one of the feature games saw Reedsburg win big 13-5 at Cazenovia. It was a tight game with Reedsburg up 6-5 after six innings but Reedsburg broke it open with seven late runs for the win that puts them at 8-3 in the Sunday League with Caz at 5-5. Matt Lennon and Ben Turner had four hits each for the Reedsburg Pirates with Lennon homering while Brandon Peyer, Marcelino Alonso, Kris Rosholt and Lucas Gudenschwager had two hits each with Alonso and Gudenschwager each driving in two runs as part of an 18-hit Reedsburg attack. Cazenovia had 12 hits themselves with Jared Fish and Cole Duren each with three and Dakota Daniels and Josh Statz two apiece. Cam Bauer allowed five runs in five innings but he gets the win for the Pirates with Sam Seymour and Kris Rosholt combining for four innings of scoreless relief. Sam Overlein worked into the seventh on the mound for the Reds and took the loss with Mark Kowalke finishing up.
Sauk-Prairie continues to lead the West division at 9-2 after a 10-0 win in seven innings over Plain yesterday. Taylor Koenig tossed a four-hit shutout over six innings to get the win while Chase Suchla's three-hit day and a HR from Chuck Schara sparked a nine-hit offensive attack. Plain is now 2-10 in the Sunday League.
Mazo scored nine runs in their final four at-bats after going scoreless in the first four and they win 9-8 over Richland Center yesterday to get back into playoff contention at 4-7 with Richland Center now 5-5.
Black Earth continues to lead the East division at 9-2 after trouncing Montello 11-1 yesterday. Former Baraboo Thunderbirds Rob Capener, Josh Lobenstein, Myles Potuznik, Jed Traxler and Mike Moriarity combined for 12 of the 19 Black Earth hits while Montello is 0-10 for the Sunday League season.
Middleton improves to 8-3 after a 6-5 win over 4-6 Cross Plains while Ashton goes 12 innings to outlast Waunakee 4-1 to go 7-3 with Waunakee now 2-7.
Portage's Brady Greene delivered a key two-run single that gave his team the lead for good as the first year players downed the second year players 8-6 in the 2013 Home Talent Baseball Rising Stars game Wednesday night at Warner Park in Madison which preceeded the big Rythym and Booms fireworks show held afterwards. Ben Turner laso had a double for the first year players and for the second year team, former  Baraboo Thunderbird Josh Statz drove in a run representing the Caz Reds and former T-Bird Anthony Hoeschele gave up three runs, one earned in his one inning of pitching representing Black Earth. July 19th is the date for the League's All-Star game, also at Warner Park.