by Matz ~ July 4th, 2013. Filed under:
Matz on Sports
.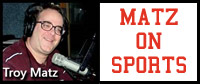 July 4th means Northern Section Sunday League Home Talent Baseball and one of the games on this holiday schedule as Reedsburg at Cazenovia in a matchup of intense league rivals through the years. Reedsburg is second in the West division at 7-3 with wins over the last two weeks over Plain and Richland Center and the Reedsburg Pirates will get a boost with the return from injury of pitcher Cam Bauer who will take over the number one spot on the staff. Bauer though may not throw today after working all 11 innings Sunday vs Richland Center and with a game Sunday. The Cazenovia Reds are 5-4 in the  Sunday League after a 3-0 loss to Sauk Sunday in an outstanding pitchers duel with Kalen Mace throwing eight shutout innings that day for Caz. Caz put it all together in their first meeting with Reedsburg at Nishan Park in a 11-0 win behind the two-hit shutout pitching of Mace with 11 strike-outs and two HR's ands six rbi's from Nick Ihde. 1 PM today in Cazenovia.
Sauk-Prairie hosts Plain today as the West division leader. Sauk is 8-2 in the Sunday League with three straight wins while Plain comes in at 2-8 with the second worst record in the Northern Section. Matt Katzman threw eight no-hit innings for Sauk vs Plain in the first matchup.
Richland Center has enjoyed a resurgence this year in the Sunday League and the Royals are 5-4 playing at 3-7 Mazo today at 4 PM. Richland Center has lost two in a row while Mazo beat Plain last week and will be back in contention for one of the four West division playoff spots with a win today.R-C won 9-7 in the first meeting.
Black Earth leads the East division at 8-2 and they play at 0-9 Montello today, a team they beat 8-4 earlier. 5-5 Cross Plains goes to 7-3 Middleton today with 6-3 Ashton at 2-6 Waunakee.
Reedsburg is 6-0 now in Senior Legion baseball after a win at De Forest last night while the Reedsburg Jr's are now 12-2 after knocking off Mount Horeb 15-5 last night at Nishan Park. Reedsburg went 3-1 and placed second in a tournament at the new Woodside Sports Complex near Mauston last weekend, losing to a select team called the Sticks Baseball Club. Baraboo's Senior Legion squad hosts it's Summer Classic Tournament Friday-Sunday at Mary Roundtree Evans Field, a six-team round-robin format while the Baraboo Juniors play at Portage Friday night.