by Matz ~ July 3rd, 2013. Filed under:
Matz on Sports
.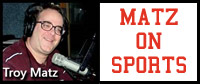 The Baraboo Bandits Legion baseball program is gearing up for their annual Summer Classic Tournament Friday, Saturday and Sunday at Mary Roundtree Evans Field. Long time tournament staples Viroqua, Stoughton and Portage will again be on hand for the six-team round robin tourney with Berlin and a group from Dane County joining the mix this year as well. This tournament has been going on in it's current format for nearly 30 years now and is always a highlight of the Baraboo Bandits summer schedule. There will be three games Friday, starting at 3 PM, and six games each on Saturday and Sunday, starting at 8:15 AM each day. Baraboo plays Stoughton at 7:30 PM Friday, Berlin at 10:30 AM Saturday and Viroqua at 7:30 PM Saturday with Sunday games vs Dane County at 8:15 AM and as always the finale vs Portage at 7:30 PM Sunday night. The Bandits are 4-8 for the summer coming into the weekend. Baraboo's Junior Legion squad plays a 5 PM game at Portage in their next action.
Reedsburg's Senior Legion baseball team is 5-0 and they play a 6 PM game at De Forest tonight in their first game of the week with Lodi at home Friday night. The Reedsburg Juniors host Lodi tonight at 6 PM at Nishan Park.
Portage edged Mount Horeb 5-4 in eight innings last night in Senior Legion baseball action. Stian Anderson belted a three-run pinch hit HR in the fifth inning to tie the score at 4-4 and then a bases loaded walk to Sam Harkins in the last of the 8th won it for Portage. Portage was out-hit 9-4 and had four errors defensively but they were the recipient of ten walks from Mount Horeb pitching en route to the win that puts them at 6-5 for the summer. Jalen Walker threw three shutout innings of relief to get the win. Portage won 17-6 over De Forest Monday night with a 13-hit offensive attack as Sam Harkins was 3×3 with Stian Anderson and Matt Thompson each with two hits that night.