by Matz ~ July 1st, 2013. Filed under:
Matz on Sports
.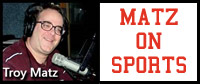 Sunday League Northern Section Home Talent Baseball: Sauk-Prairie 3-0 over Cazenovia as Sam Koenig's 2-run HR sparked a three-run nith inning for Sauk and Matt Katzman threw eight shutout innings. Sam Koenig, Lucas Koenig and Trent Sorg had two hits each for 8-2 Sauk with Katzman and Paul Lenerz combining on a four-hit shutout. Kalen Mace threw eight shutout innings for Caz with 13 strike-outs but Jake Overlein takes the loss in relief for the 5-4 Caz Reds. Sauk leads the West division.
Reedsburg 4-3 in 11 innings over Richland Center with Brandon Peyer driving in the tying runs with a ninth inning double and then winning it with an rbi single in the 11th for 7-3 Reedsburg. Peyer had three hits total and Trevor Berndt two more for the Reedsburg Pirates and Cam Bauer pitched all 11 innings to get the win, allowing seven hits with four walks and nine strike-outs. Richland Center falls to 5-4 with the loss
Mazo improves to 3-7 with a 12-2 win over 2-9 Plain
Black Earth takes over the East division lead by themselves at 8-2 with a 3-2 win over Cross Plains who falls to 4-5
Middleton falls out of first place at 7-3 with a 2-0 loss to Ashton who is now 6-3
Waunakee improves to 2-6 with a 4-2 win over 0-9 Montello.
Cross Plains also beat Plain 18-1 in a Saturday make-up.
Baraboo Bandits Senior Legion baseball hosts their annual Fourth Of July six-team round robin tournament Friday-Sunday at Mary Roundtree Evans Field with Baraboo meeting Stoughton at 7:30 PM Friday in round one with Berlin, Viroqua, Portage and a team representing Dane County comprising the rest of the field. The Bandits drop to 4-8 for the season with three losses over the weekend. Nekoosa edged Baraboo 4-1 on Saturday with Clay Hinz going the distance on the mound and taking the loss with a five-hitter and four walks to go along with six strike-outs. Baraboo had just six hits with the one run offensively with Matt Meyer 2×3 for the Bandits. Baraboo played two at Janesville Sunday and lost game one 4-2 with just four base hits as Matt Meyer pitched well but took the loss, allowing only six hits. The wheels came off for Baraboo in game two Sunday with six errors defensively, no base hits offensively and a combined 14 runs and 14 hits allowed by the pitching staff in a 14-1 loss with Alex Weinke and Jameson Traxler the pitchers in that contest.
Baraboo Bandits Junior Legion baseball won their second game of the summer Saturday 4-3 over Nekoosa. Matt Munneke pitched a complete game five-hitter for the Bandits with the winning run scoring in the top of the seventh. The Junior Bandits are 2-7 and play next at Portage Friday night.
Reedsburg Senior Legion baseball was postponed Friday night with Waunakee and will put their 5-0 record on the line Wednesday at De Forest. The Reedsburg Junior Legion baseball team has just one loss and they host Lodi tonight at 5:30 PM at Nishan Park before hosting Mount Horeb Wednesday.
Portage Senior Legion baseball goes to De Forest tonight with a 4-5 overall record for the summer.
Reedsburg's Seth Douglas was 3×5 with a double, triple and two rbi's for the South team over the weekend in the WBCA State high school baseball All-Star Series at UW-Oshkosh. Colyn Buss of Wisconsin Dells also threw four shutout innings on the mound with one walk and one strike-out in one of the games as the South team went 2-1 in the four-team round robin format. Alex Spurley of River Valley was also a member of the South team.
Baraboo Thunder U-14 softball went 0-4 Saturday in a tournament in Waupun with losses to Neenah, Waupun, Hartland and Beaver Dam. The U-14 team hosts Poynette at Pierce Park tomorow night. Coach Dave Haseley's U-12 Baraboo Thunder South-Central league team hosts Reedsburg White tonight at Pierce Park field four at 6 PM.
Dodgeville wins the title in the 16-team Reedsburg summer high school girls basketball tournament held Friday and Saturday at RAHS. Dodgeville went 3-0 in pool play and then won four in a row in the single eliminaton bracket Saturday afternoon and evening to go 7-0 for the tournament. Dodgeville knocked off Appleton Xavier in the final on Saturday night. Reedsburg and Baraboo both went 1-2 in pool play and then lost their first game Saturday afternoon in the single elimination for 1-3 overall records for the tournament. Reedsburg will also host a nine-team summer tourney on July 12th and 13th at RAHS with Baraboo also part of that field as well.
Dells Raceway Park-All of the feature races got in despite a rain delay and feature winners Saturday included Rich Schumann Jr. for the Late Models with John Deangelis Jr. second with Rick Coppernool winning the Sportsman feature followed by Scott Luck. Dave Trute won the feature for the Pure Stocks and Chase Munns won the Bandts feature before failing post-race inspection and Cory Talaska won the Legend Cars feature with Connor Latzig winning the Bandoleros series event. It's the North American Cup this coming Saturday night at DRP.