by Matz ~ June 28th, 2013. Filed under:
Matz on Sports
.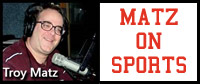 Baseball: Baraboo Bandits Senior Legion baseball will play Saturday at Nekoosa with a DH at Janesville Sunday. The Bandits are 4-5 overall after a 10-0 loss to Wisconsin Dells Thursday. Baraboo Juniors also play at Nekoosa on Saturday.
Sunday League Northern Section Home Talent Baseball: Sauk-Prairie at Cazenovia, Richland Center at Reedsburg, Mazomanie at Plain, Black Earth at Cross Plains, Waunakee at Montello, Ashton at Middleton, Saturday-Cross Plains at Plain. Standings-West division Sauk-Prairie 7-2, Reedsburg 6-3, Cazenovia 5-3, Richland Center 5-3, Mazomanie 2-7, Plain 2-7, East division Middleton 7-2, Black Earth 7-2, Ashton 5-3, Cross Plains 3-4, Waunakee 1-6, Montello 0-8
Baraboo Thunder U-14 softball at a tournament in Waupun Friday-Sunday
Baraboo Riptide Youth swim team competes at Sauk-Prairie at 8 AM Saturday in a Tri-County Conference dual. The Riptide is 1-2 overall with a win over Spring Green and losses to Mount Horeb and on Wednesday vs Sun Prairie with Hannah Vittengyl, Abby Hennessy, Noah Larson and Gemma Pillsbury all winning three individual events Wednesday for the Riptide.
The annual fireworks spectacular is a big part of the schedule for Saturday night at Dells Raceway Park and there will be a Kids Club bike giveaway as well. Racing in the Late Model, Sportsman, Pure Stock and Bandits division will take place along with the Legend Cars and Bandoleros. Fan gates open at 4 PM with qualifying at 5:15 PM and racing at 7 PM with those 16 and over paying a 12 dollar admission, 10 dollars for Senior Citizens and eight dollars for ages 10-15. After last week's rain-out, the points leaders are Rich Schumann Junior for the Late Models, The Dave Trute-Mitch Lyden combo for the Sportsman, Travis Hancock for the Pure Stocks and Steven Rozek for the Bandits division.