by Matz ~ June 27th, 2013. Filed under:
Matz on Sports
.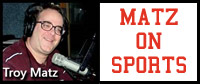 Baseball: Baraboo Bandits Senior Legion squad puts their 4-4 record on the line tonight at Veterans Park in Wisconsin Dells for a 7:30 PM game. Baraboo's last game was a 7-5 loss to Tomah on Saturday after a win over Portage on Friday. Clay Hinz and Griffin Nicksic are regulars hitting over .300 as the Bandits have showed some offensive punch this summer while Hinz and Jameson Traxler both have ERA's under 3.50 and both have thrown around 20 innings so far this summer to anchor the pitching staff. The Bandits also play in Nekoosa Saturday and at Janesville Sunday.
Baraboo's Junior Legion squad hosts Portage tomorrow night and they also go to Neko0sa on Saturday with the Baraboo Juniors at 1-6 for the summer.
Reedsburg is 4-0 for the summer in Senior Legion baseball with a 5:30 PM game at Lodi tonight. Reedsburg has scored ten runs or more in all four wins, averaging 12 per game and they beat Portage 11-3 on Tuesday. Reedsburg also hosts Waunakee tomorrow night at Nishan Park. The Reedsburg Juniors were also 5-1 going into the week.
Wednesday-Mc Farland beats Portage 3-0 in Senior Legion baseball as Portage drops to 3-5 for the summer. Jordan Walker pitched well with eight strike-outs but took the loss while Mc Farland's Jacob Schimmel pitched a four-hitter with 16 strike-outs.
Portage edges Reedsburg 4-3 in a Home Talent Western Section Night League game  Wednesday in Portage. Ethan Greenes rbi double wins it in the last of the seventh ansd it was his second rbi of the night and Greene also was the winning pitcher in relief. Mike Jordahl had two of the six Portage hits and Matt Lennon had two of Reedsburg's seven hits. Tonight in the Night League, Sauk-Prairie plays at Cazenovia, Plain at Black Earth and Mazo goes to Dodgeville.
Baraboo Thunder softball-Tonight's games feature the U-14 girls facing Wisconsin Dells 1 at Pierce Park field one at 5:30 PM and the two U-12 teams face off against each other at 6 PM at field two at Pierce Park. The U-10 Black squad hosts Dells Royal in a 5:30 PM game at Pierce Park field three with U-10 Silver facing Reedsburg Blue at Pierce Park field 4 at 5:30 PM. The U-10 Baraboo Thunder Teal team faces Reedsburg Red at the Nishan Park 8th street field at 5:30 PM in Reedsburg.