by Matz ~ June 25th, 2013. Filed under:
Matz on Sports
.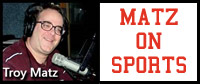 Baraboo is now 1-6 for the summer in Junior Legion baseball after a 6-2 loss to Randolph Monday at Mary Roundtree Evans Field. Randolph broke the game open in the fifth with three runs and four Baraboo Bandits errors in the inning were key in Randolph's uprising. TJ Wagner was the starting and losing pitcher and he and reliever Matt Munneke combined to allow only four hits and no earned runs. The Bandits were also held to just four hits offensively. Baraboo plays at Wisconsin Dells Thursday night in Junior and Senior Legion baseball action.
Reedsburg hosts Portage tonight in Senior Legion baseball at 5:30 PM at Nishan Park. Reedsburg is 3-0 for the summer and were postponed Friday against Cottage Grove with the Reedsburg squad scoring ten runs or more in each game. Portage is 3-3 for the summer and they broke a three-game losing streak last night in a 10-0 win over Lodi. Portage batters were walked 12 times and seven of them came in a seven-run first inning. Stian Anderson had two of the seven hits for Portage while Sam Bortz threw a two-hit shutout in the five-inning contest with five strike-outs. Lodi had very few players from their high school State championship team in action last night.