by Matz ~ June 24th, 2013. Filed under:
Matz on Sports
.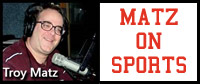 Rain was a problem for Saturday's Baraboo Baseball Day at Mary Roundtree Evans Field but the Baraboo Bandits did get in their Senior Legion game but it was Tomah that emerged with a 7-5 win. Baraboo took a 3-0 lead in the first inning with Clay Hinz and Matt Meyer with rbi singles and then with the score 3-2 in the fourth inning, Baraboo went up by three runs again with one of the runs scoring on a Griffin Nicksic rbi single with another scoring on a defensive miscue. Baraboo would not score the rest of the way however and Tomah rallied to tie in the fifth and they won in in the 10th to earn the come from behind win. Jameson Traxler threw all ten innings and took the loss for Baraboo, allowing 11 hits and Nicksic had two of Baraboo's eight hits offensively. Baraboo gets a shutout win over Portage 5-0 on Friday night behind the three-hit shutout pitching of Clay Hinz who struck out ten in the process. Hinz also had two rbi's and Griffin Nicksic had two hits so the Bandits are now 4-4 overall for the summer. Yesterday's DH with Prairie Du Chien was postponed and will likely be re-scheduled and the Bandits now look to a Thursday night game at Wisconsin Dells.
Baraboo's Junior Legion game with Tomah was postponed Saturday as was the Babe Ruth game featuring the two Baraboo teams as was Saturday night's Legion baseball alumni game. The Baraboo Juniors are hopeful of playing host to Randolph tonight at 6 PM at Mary Roundtree Evans Field. Baraboo's first ever Baseball Hall Of Fame Class was officially inducted Saturday evening amidst the raindrops as Harry Saloutas, Craig Schlender, Steve Proctor, Gene Higgins and John Dombroski recieved their just recognition.
Reedsburg Senior Legion baseball was postponed at home Friday night with Cottage Grove with a home game vs Portage set for tomorrow night. Reedsburg's Junior Legion program hosts Portage tonight at 5:30 PM at Nishan Park.
Sunday League Northern Section Home Talent Baseball: Sauk-Prairie continues to lead the West division at 7-2 after an 8-2 win over Mazomanie with winning pitcher Matt Katzman and Paul Lenerz combining on a six-hitter with Lucas Koenig and Sam Koenig each homering as well for Sauk. Reedsburg routs Plain 15-7 at Nishan Park to go 6-3 in the Sunday League with a 16-hit attack. Chad Mazur and Ben Turner had three hits each with two apiece for Kris Rosholt, Justin Backeberg and Marcelino Alonso with Rosholt and Backeberg each homering as well. Black Earth ties Middleton for the East division lead at 7-2 with a 6-3 win over Middleton as former Baraboo Thunderbird Myles Potuznik had four hits and four rbi's for Black Earth while another former Thunderbird, Lucas Hoeschele, gets the win. Caz at Richland Center was postponed to July 21st, Montello at Ashton postponed to July 20 and Waunakee at Cross Plains was postponed as well. Portage falls to 7-4 in the Eastern Section with an 8-1 loss to Sun Prairie with Matt Bortz the losing pitcher.
Baraboo Riptide was postponed Saturday in their Tri-County Conference swim dual vs Sun Prairie and the make-up is Wednesday night at 5:30 PM at the Jack Young Middle School Pool in Baraboo and the Riptide competes Saturday morning at Sauk-Prairie as well.
Rain washed out Saturday night's racing card at Dells Raceway Park with more action set for this Saturday night including a fireworks spectacular and the Legend cars in addition to the regular racing divisions.