by Matz ~ June 24th, 2013. Filed under:
Matz on Sports
.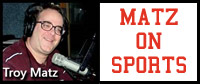 The Baraboo Soccer Club is now accepting registrations for all recreation club teams ranging in age from U-10 to U-19 for the 2013 Fall season. July 12 is the registration deadline for all teams except the 16-18 Classic Girls Flyers with July 1st the deadline there. Forms and payments are required at the time of registration and all new and returning players need a newly completed registration form, signed concussion form and a WAYSA waiver form signed to be considered. Payments and completed forms can be sent to Baraboo Soccer Club, P.O. Box 603, Baraboo,Wi. 53913. Checks should be made out to the Baraboo Soccer Club. For more information, visit the website www.baraboosoccerclub.org.
The annual Jordan C. Kruse Memorial Men's Softball Tournament is set for July20th and 21st at Pierce Park in Baraboo. It's a double-eliminationformat with a consolation bracket as well. Entry fees are 150 dollars per team with fees due by July 12th. For more information, contact David Kruse at 356-7429.
The 17th annual Purple Monkey Open Golf Event will be held Saturday August 17th at the Baraboo Country Club. It's a Noon shotgun start and the fee is 85 dollars for non-members and just 55 dollars for club members with the fee including golf, cart, special golf towel, free beer and soda, dinner, prizes and more. Proceeds from the event go towards Baraboo Legion baseball and it's programs and those wishing to do the dinner program only can do so for 25 dollars. The event is limited to the first 144 paid golfers and to register or for more information, go to www.baraboolegionbb.org or contact Monk's Grill in Baraboo.
Baraboo High School is looking to fill some c0aching openings for the 2013-2014 school year. Varsity head coach positions are open for boys swimming, baseball and pompons while JV head coach positions need to be filled for boys basketball, boys swimming and girls swimming. Other coaches openings include Freshman girls basketball, Freshman softball Freshman volleyball and a Middle School wrestling assistant coach. For more information on these coaching vacancies, contact A.D. Aaron Andres at 355-3945 or e-mail at aandres@barabooschools.net.