by Matz ~ June 21st, 2013. Filed under:
Matz on Sports
.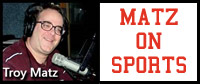 Baseball: Baraboo Baseball Day is scheduled for all day on Saturday at Mary Roundtree Evans Field. The two Baraboo 14-year old Babe Ruth League teams play one another at 11 AM followed by Baraboo vs Tomah at about 1 PM in Junior Legion baseball with the Senior Legion teams from both communities squaring off around 3:30 PM. The newly formed Little Bandits 7-8 year olds will take the field from 6-7 PM followed by the induction ceremonies for the first ever Baraboo Baseball Hall Of Fame Class incuding Harry Saloutas, Craig Schlender, Steve Proctor, Gene Higgins and John Dombrowski with the Legion baseball alumni game wrapping up the full day of action at about 7:30 PM. Concessions, including beer for adults, and Monk's burgers will be available throughout the day with inflatables on hand for the youngsters, raffles, Baraboo youth baseball team introductions and the Miller Park racing sausages all part of the fun. The Bandits Senior Legion team also hosts Prairie Du Chien at 11 AM Sunday.
Sunday League Northern Section Home Talent Baseball: Saturday-Reedsburg at Black Earth, Sauk-Prairie at Waunakee, Ashton at Cazenovia, Richland Center at Middleton, Cross Plains at Plain, Mazomanie at Montello. Sunday-Plain at Reedsburg, Sauk-Prairie at Mazomanie, Cazenovia at Richland Center, Black Earth at Middleton, Montello at Ashton, Waunakee at Cross Plains. Sauk leads the West division standings at 6-2 with Reedsburg, Cazenovia and Richland Center all 5-3 while Middleton at 7-1 and Black Earth at 6-2 are the East division leaders.
Baraboo Riptide Youth swim team hosts Sun Prairie at 8 AM Saturday at the Campbell Park Pool as part of the Tri-County Conference dual meet season. The Riptide won big over Spring Green in week one but lost to Mount Horeb last week although Rachel Laux, Josh Hackbarth, Hannah Vittengyl and Brian Cormican all were double winners individually for Baraboo.
Dells Raceway Park: The North-South Shootout highlights Saturday's racing card with 700 dollars going to the winner. The Late Models will also have a 50-lap feature race with the Bandits along with the Bandit Challenge, the Allison Legacy Cars and Bandoleros all part of the Saturday schedule. A Kids Club Bike giveaway also will be featured with Fan Gates opening at 4 PM, Qualifying at 5:15 PM with racing at 7 PM. Rich Schumann Junior for the Late Models, Dave Trute and Mitch Lyden for the Sportsman, Travis Hancock for the Pure Stocks and Steven Rozek for the Bandis are the season points leaders at the track with last week's feature winners showing Nick Nolden for the Late Models, Brandon Birdsill for the Sportsman, Mark Hohl for the Pure Stocks and Kyle Stark for the Bandits.