by Matz ~ June 18th, 2013. Filed under:
Matz on Sports
.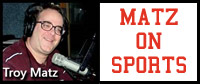 The Wisconsin Fastpitch Softball Coaches Association has announced the All-District teams for the 2013 high school softball season. In the South-Central District, Baraboo's Jess Carignan at pitcher and Shelby Gerken as an infielder, both Seniors, earn first team honors. Both hit well over.400 for the season and Carignan had a better than 20-1 strike-out to walk ratio with an ERA of 1.31 and she won 14 games for Baraboo this season in the pitchers circle. Both were first team all-league selections in Badger North as well with Carignan also playing in the State All-Star series in Wisconsin Dells last week. Senior infielder Kaitlin Schultz of Portage, Junior Pitcher Katie Klein and Sophomore outfielder Kayla Goth of De Forest and Senior Pitcher Allie Taylor of Waunakee all earned honorable mention in the All-District voting in the South-Central.
Freshman Pitcher Kylie Hoffman, Senior infielder Sydney Clarson and Senior infielder Mackenzie Price from SWC champion River Valley High School all are first team All-District girls softball players for this Spring in the Southwest District as announced this week by the Wisconsin Fastpitch Softball Coaches Association. River Valley's Emma Voss is also an honorable mention outfielder in the All-District voting with Pitcher Michaela Vinz and Catcher Sam Olson on the first team from Scenic Bluffs champion and D-4 State qualifier New Lisbon as is Utility player Morgan Hyatt of Brookwood. Leticya Madrigal of Brookwood and Cashton's Kesha Janzen are honorable mention players.
Sophomore Emma Roenneburg of Adams-Friendship is a first team All-District choice as a Pitcher in the North-Central District for the second year in a row.