by Matz ~ June 18th, 2013. Filed under:
Matz on Sports
.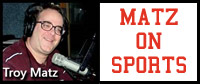 The Baraboo Bandits Junior Legion baseball team picked up their first win of the summer over the weekend as the Bandits hosted a five-team round-robin tournament at Mary Roundtree Evans Field. Baraboo dropped a 6-2 decision to Stoughton Saturday morning with Jarrett Benson pitching fairly well but taking the loss in a complete game performance. Baraboo earned a victory Saturday night with an 8-2 win over Oconomowoc with winning pitcher TJ Wagner and Trevor Hanson working well on the mound while Hanson had three hits and Wagner two more to spark the offense. Reedsburg's Junior Legion group won the tournament and they beat Baraboo Sunday morning 16-5 with Ethan Wilkerson the losing pitcher and the Bandits lost a close one 12-8 vs Portage Sunday night with Trevor Hanson taking the loss in relief of Matt Munneke but TJ Wagner had three hits and Chase Pierce and Munneke two each. The Junior Bandits are 1-5 overall with a home game vs Tomah set for Saturday at 1 PM at Mary Roundtree as part of Baraboo Baseball Day. The Senior Legion squad will also host Tomah with youth baseball, the first ever Baraboo Baseball Hall Of Fame inductions and an alumni Legion baseball game all part of Saturday's festivities.
Reedsburg's Senior Legion baseball team is 2-0 now for the Summer after routing Mc Farland 16-0 last night with Nate Runde the winning pitcher. Reedsburg plays a 5:30 PM State Line League game at Portage tonight.