by Matz ~ June 17th, 2013. Filed under:
Matz on Sports
.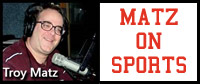 RAHS has many athletic awards that are handed out each spring and the 2013 recipients have been announced.
 The Top Senior Male Athlete award winner for 2013 is Matt Olson while Beth Maenpaa has been selected as the Top Senior Female Athlete. The winners of the Raymond Miller Sportsmanship Awards are Justin Bergman and Abby Clement. The Bonnie Oetzman Memorial Award is given annually to the top Sophomore female athlete and this year's recipient is Tommie Brenner with the Kurt Mesiter Dedication Award going to Nick Hasler as the top Sophomore male athlete.
 An Outstanding Athlete Award is presented to those Seniors who earned eight or more letters in their high scholl athletic careers and those winners this year are Beth Maenpaa with 12 letters, Katie Ratajczyk and Carley Bill with 11, Austin Westerlie with 10, Aaron Lopp, Matt Olson, Abby Clement and Becky Ratajczyk with nine along with Cortland Maxfield, Nick Noye, Chelsee Carrig, Meghan Douglas and Andrea Greenwood with eight apiece.
Athletic Dedication Awards are presented to those individuals who played three sports in all four years of high school and had no code violations and those winners for this year are Matt Olson(football, hockey and baseball), Austin Westerlie(football, basketball and track and field), Carley Bill(golf, hockey and softball), Beth Maenpaa(volleyball, basketball and softball), Katie Ratajczyk(cross country, basketball and track and field) and Becky Ratajczyk(cross country, basketball and track and field).
 Reedsburg's WIAA Scholar Athletes for 2013 are Matt Olson and Beth Maenpaa and the Badger Conference Scholar Athletes from RAHS are Nick Noye and Katie Ratajczyk.