by Matz ~ June 17th, 2013. Filed under:
Matz on Sports
.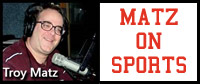 The City of Baraboo has a long and rich baseball tradition and for the first time, Baraboo will now have a Baseball Hall Of Fame. A committee of baseball historians in Baraboo has been formed and they voted on five individuals who will be the first five inductees into the newly formed Hall Of Fame and the official induction ceremonies will be part of Baraboo Baseball Day this Saturday at Mary Roundtree Evans Field.
 Harry Saloutas was a long time coach of the Baraboo High School baseball team and also organized and coached Baraboo's first ever Babe Ruth team in 1958, leading that team to a State championship and Saloutas later oversaw Baraboo's Little League program.
 Craig Schlender has been a big part of Baraboo baseball for over 50 years as a player and coach and was a major force in the revival of Mary Roundtree and has put in countless hours of work to make Mary Roundtree Evans the Sports Turf Magazine National Field Of The Year. Schlender was a coach on the 1999 State championship Legion squad and also coached that year in the State All-Star Game at Miller Park and today he is a Baraboo Legion baseball board member, coach and City Park Commission member.
 Steve Proctor has coached baseball at nearly every level in Baraboo since the 1960′s and helped restart legion baseball in 1974 after a one-year absence and eventually started up the Fourth Of July annual tournamnt that continues today and was in charge of Baraboo Little League baseball for several years as well and is a current member of the high school coaching staff.
 Gene Higgins played a key role in Baraboo's Babe Ruth baseball State championship team in 1958 and was one of the top players in Baraboo High School history, playing from 1958-1961 and his support of baseball in the community continued for many years after his playing days were over.
John Dombroski was instrumental in the development of baseball in Baraboo in the 1940′s and 1950′s and was perhaps the driving force of summer baseball getting going in Baraboo during that time at many levels.
These five key figures in the history of baseball in Baraboo will be officially inducted into the Baraboo Baseball Hall Of Fame Saturday evening prior to the Legion Baseball Alumni game at Mary Roundtree Evans Field as part of Baraboo Baseball Day at the park.