by Matz ~ June 17th, 2013. Filed under:
Matz on Sports
.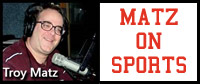 Baraboo Bandits Legion Baseball falls to 3-3 for the summer with three losses at the weekend tournament in Prairie Du Chien. The Bandits lost 5-1 to Viroqua Saturday morning with only four base hits and they struck out 14 times against standout pitcher Mitch Stalsburg. Clay Hinz pitched fairly well but took the loss for the Bandits. Baraboo lost Saturday night 7-3 vs Onalaska with six errors defensively severely hurting their cause. Jameson Traxler took the loss, allowing three earned runs and the Bandits had only five hits. Baraboo got some offense rolling Sunday with five runs and ten hits but lost 7-5 to Lancaster. Traxler had three hits and Andrew Thompson two more but the Bandits left nine runners on base in a two-run loss. Matt Meyer allowed 13 hits and took the loss for the Bandits who are now 3-3 and idle until a Friday night home game with Portage prior to Baraboo Baseball Day Saturday at Mary Roundtree with the Senior and Junior Legion teams both hosting Tomah with youth baseball on the schedule that day along with a Bandits Legion Alumni game and the first class of the newly formed Baraboo Baseball Hall Of Fame will be inducted that day as well.
Reedsburg Senior Legion baseball plays at Mc Farland tonight and they opened their season Friday with an 11-5 over the Madison Spartans with Sam Peterson allowing three runs, two earned, over five innings to get the win while Steve Gavin, Nate Runde and Aaron Wormet all had two hiuts with Wormet driving in four runs for the Reedsburg team.
Sunday League Northern Section Home Talent Baseball: Sauk-Prairie 4-2 over Reedsburg to take over the West division lead at 6-2. Matt Katzman pitched a one-hitter with nine strike-outs over seven innings to get the win for Sauk with Sam Seymour taking the loss in relief for 5-3 Reedsburg. Sauk out-hit Reedsburg 13-2 Dylan Slotty 3×4 on the day.
Cazenovia 9-7 over Mazomanie as former Baraboo Thunderbird Dakota Daniels had three hits and two rbi's for 5-3 Caz with Mazo now 2-6.
Middleton 10-0 over Montello and Middleton leads the East division at 7-1
Black Earth 10-3 over Waunakee
Cross Plains 3-1 over Ashton
Eastern Section-Portage 8-3 over Marshall on Saturday with an 8-1 loss to Cottage Grove Sunday with Portage now 7-4 in the Eastern Section
Dells Raceway Park-only feature events were held Saturday night after two rain delays and the feature event winners included Nick Nolden in the 40-lap Late Model event over Corey Jankowski, Brandon Birdsill for the Sportsman division over Jeff Nehkron, Mark Hohl holding off Travis Hancock in the Pure Stock division and Kyle Stark over Steven Rozek for the Bandits
Area players competed in the WBCA Boys Basketball State All-Star games Saturday at Just A Game Fieldhouse in Wisconsin Dells. MJ Delmore of Wisconsin Dells scored eight points, Joel Heesch of Mauston seven and Alec Adsit of Richland Center four points for the South team in the D-3 game while Royall High School teammates Sam Murphy and Nate Scheeter scored eight and six points respectively for the South in the D-5 game and Waunakee teammates Ryan Kruser and Will Decorah scored 17 and two points respectively for the South team in Saturday's D-2 game.
Cedarburg won their first ever WIAA State girls soccer championship Saturday with a 4-1 win over Waukesha West in the D-1 final. Waukesha Catholic Memorial is a State girls soccer champ for the sixth time and for the second straight year in D-2 with a 2-0 win over Mount Horeb from Badger North who finishes as the D-2 runner-up for the second year in a row, finhsing up 14-6-1 overall. Ozaukee is the D-3 champion with a 3-1 decision over Racine Prairie School and it's their 4th State title in girls soccer.