by Matz ~ June 15th, 2013. Filed under:
Matz on Sports
.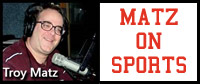 Baraboo Bandits Senior Legion Baseball plays Viroqua and Onalaska Saturday at the Prairie Du Chien Tournament with at least one game Sunday and possibly two. The Bandits are 3-0 to start the summer season. The Baraboo Bandits Junior Legion squad hosts a five-team round-robin tournament if the weather cooperates at Mary Roundtree Evans Field. Baraboo is scheduled to face Stoughton at 10:30 AM today and Oconomowoc at 7:30 PM tonight with games vs Reedsburg at 10:30 AM Sunday and vs Portage at 7:30 PM Sunday night. The Baraboo Junior Legion team is 0-2 for the season entering this weekend.
Reedsburg's Senior Legion baseball team opens it's summer schedule in Madison against the Spartans with the Reedsburg Jr's playing in the Baraboo Tournament.
Sunday League Northern Section Home Talent Baseball: Sauk-Prairie at Reedsburg, Caz at Mazo, Montello at Middleton, Black Earth at Waunakee, Cross Plains at Ashton, Friday-Plain 3-2 over Richland Center, Reedsburg and Sauk share the lead in the West division at 5-2 with Middleton atop the East division at 6-1. Portage plays two games this weekend in the Eastern Section as they play at Marshall today and at Cottage Grove Sunday. Portage is 6-3 in the Eastern Section.
Baraboo Thunder girls softball hosting their annual Big Top Blowout Tournament with games all weekend at four Pierce Park diamonds, one at Baraboo High School and another at Gordon L Wilson School. Baraboo Thunder has three entires with 40 teams from all over the State competing in four different age brackets.
Baraboo Riptide youth swim team is scheduled for a Tri-County Conference dual meet at Mount Horeb today, one week after a season opening win 460-188 over Spring Green with Gemma Pillsbury, Namoi Pelland, Hannah Vittengl and Noah Larson all winning three individual events last Saturday.
Dells Raceway Park has Late Models, Sportsman, Pure Stocks and Bandits racing tonight and the Legend cars will be on hand as well with fan gates opening at 4 PM, qualifying at 5:15 PM and racing at 7 PM tonight.
MJ Delmore of Wisconsin Dells, Joel Heesch of Mauston and Alec Adsit of Richland Center are on the South roster for today's D-3 boys State High School Basketball All-Star game being played at Just A Game Fieldhouse in Wisconsin Dells around 12:30 PM. Sam Murphy and Nate Scheeter from Royall High School will be in the D-5 game today at 9 AM at JAG. Brad Rohling of Wisconsin Dells is also the head coach for the D-3 boys South team for today's event. Baraboo girls basketball standouts Sam Terry and Emily Brinker played Friday in the WBCA girls All-Star game in D-2 with Brinker scoring 11 points and Terry ten for the South squad.