by Matz ~ May 20th, 2013. Filed under:
Matz on Sports
.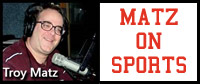 WIAA Regional Track and Field: D-1 at Baraboo at 3:30 PM-Baraboo's refurbished Beryl Newman Field hosts a nine-team Regional with Baraboo, Reedsburg and Sauk-Prairie part of the mix. The Baraboo girls placed second at the Badger North meet last week with Mc Kaela Christenson winning two titles in her final ever conference competition with Emily Brinker, Emmalee Kick and Erica Judge also winning individual titles for the Thunderbirds as did Britany Schyvinck and two relays for Reedsburg. Sauk-Prairie had no girls champs but Lianna Mack and Libby Molitor among others are threats to win titles today in a field that also includes Holmen, Onalaska, Sparta, Tomah, La Crosse Logan and Central. Other area boys champs from the Badger North meet included Jake Nemitz of Reedsburg, Kyle Mc Conville of Sauk-Prairie in two events. The first events begin at 3:30 PM and the top four in each event advances to the Madison Memorial Sectional Thursday. Portage is part of the Beaver Dam D-1 Regional at 3:30 PM with many eyes on nationally ranked discus thrower Sam Elsner for the Portage boys. Matt Bare also won a conference title this past week for the Portage boys.
Wisconsin Dells High School hosts a D-2 Regional today at 4 PM with Adams, the Westfield coop, Columbus, Lodi, Marshall, Poynette, Randolph and Watertown Luther Prep also involved. Karissa Mace and Sam Conroy won titles for the Dells girls at last week's SCC meet with Dan Sweeney and Byron Beyer top hopefuls for the boys with the top four in each event today advancing to the D-2 Boscobel Sectional Thursday. River Valley, Richland Center and Mount Horeb are part of the nine-team field at the River Valley D-2 Regional at 4 PM today.
Hillsboro, Royall and Wonewoc-Center join other Scenic Bluffs Conference schools at today's Cashton Regional meet in D-3 with again the top four in each event advancing to the Sectional on Thursday at Viroqua.  Taylor Juresh won three events for the Royall girls with Kim Bucholz also a winner while Max Sebranek of Hillsboro won two events and Matt Bartels also won an event at the Scenic Bluffs meet last week.
Boys Tennis: Reedsburg Area High School hosts a D-1 WIAA Sub-Sectional today at 10 AM with Baraboo, Sauk-Prairie, Badger North champion Waunakee, Big Eight Conference champion Middleton, Madison East and Beaver Dam all in the field. Baraboo and Reedsburg both had no day two entries at the Badger Conference Tourney over the weekend while the Sauk one doubles team of Cody Mack and Tyler Ballweg placed third. Waunakee won the overall team title at Badger Conference, ending Madison Edgewood's long reign on top with Sauk-Prairie second among the Badger North teams followed in order by Baraboo, Reedsburg and Portage and that was the order of finish in the final overall standings as well. The top four in flight one singles and doubles advance today along with the top two in the other flgihts to a Thursday Sectional at Nielsen Tennis Stadium. Portage and Mauston are in a D-2 Sub-Sectional at UW-La Crosse today with six other schools competing.
Baseball: Badger North-Baraboo at Waunakee at 5 PM, this game is a make-up from Friday's postponement and will start at the normal 5 PM time slot as opposed to the special 7 PM time that was scheduled for Friday. Baraboo is 2-8 in the league and 2-10 overall and trying to snap an eight-game losing skid, a streak where Baraboo has scored just eight runs total. Waunakee is 8-1 and atop the conference but Waunakee still has to play Portage tomorrow and complete a suspended game with them tomorrow as well. Waunakee won 14-3 over Baraboo in the first meeting. Baraboo closes out league play Thursday at Reedsburg.
Reedsburg at Mount H0reb 5 PM-Reedsburg is 5-4 in Badger North after a 3-0 week in conference last week with victories over Baraboo, De Forest and Portage, winning by seven runs or more in all three contests. Reedsburg got strong pitching last week with Seth Douglas throwing well twice as Reedsburg looks to be more of a complete and balanced team with an 8-5 mark now overall. Mount Horeb is second in the conference at 9-2 and they close out league play today still chasing 8-1 Waunakee. Reedsburg beat Mount Horeb 5-1 in the first meeting with the Vikings stranding 15 base runners in the loss. Reedsburg also plays a make-up at Sauk tomorrow and at home with Baraboo Thursday.
Ridge and Valley: Kickapoo at Weston
Saturday-Jefferson wins the three-team Wisconsin Dells baseball round-robin event with a 13-3 win over Sauk-Prairie and a 4-3 win over Wisconsin Dells with Dells also edging Sauk 3-1. Dells is now 10-2 overall with Sauk 7-9 overall for the season.
Girls Soccer: Badger North-De Forest at Reedsburg 5 PM-This is a make-up from an April 16th postponement and both teams are 2-2 in Badger North with the winner today to join Mount Horeb in a second place tie in Badger North behind Waunakee. The Beavers are 8-2-1 on the season overall with MG on the schedule Thursday as well
Sunday League Northern Section Sunday League Home Talent Baseball: Reedsburg 12-4 over Ashton in six innings-Justin Backeberg had three hits including a HR and Trevor Berndt had two hits including a HR for Reedsburg with Sam Seymour the winning pitcher with both teams now 2-1 in the Sunday League.
Sauk-Prairie 7-3 over Montello-Chase Suchla had three hits including a HR for 2-1 Sauk with Matt Katzman the winning pitcher in relief of Travis Koenig
Black Earth 3 Cazenovia 0-Myles Potuznik threw a complete game six-hitter with 13 strike-outs for Black Earth as Caz suffers their first league loss. Jake Overlein took the loss and Cole Duren had three his for Caz.
Waunakee 5 Plain 4
Richland Center 5 Cross Plains 4 (10 innings)
Middleton 11 Mazomanie 1
Caz, Reedsburg and Sauk all are 2-1 in the West Division with Middleton 3-0 atop the East
Portage is 3-0 in the Eastern Section in the Sunday League after a 5-4 win over Cottage Grove yesterday with Ethan Greene's rbi double in the last of the ninth winning it. Matt Bortz was the winning pitcher in relief.