by Matz ~ May 18th, 2013. Filed under:
Matz on Sports
.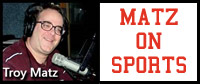 Baseball: Badger North-Baraboo at Waunakee postponed to Monday
Reedsburg 10 Portage 1-Seth Douglas pitches a four-hitter with two walks and seven strike-outs over six innings for the 5-4 Beavers who won three league games this week. Reedsburg also banged out 12 hits against losing pitcher Jalen Walker as the Warriors fall to 6-4 in the league and likely now out of the title picture. Nate Runde had three hits while Steve Gavin, Jordan Bill, Douglas and Ty Brandt all with two hits apiece for Reedsburg with Brant homering as well.
Mount Horeb 8 Sauk-Prairie 0-Kale Pustina throws a six-inning shutout for the second time this week for 9-2 Mount Horeb, allowing no runs on two hits with two walks and four strike-outs. The Vikings tallied six runs in the fourth to break a scorless tie at that point with Riley Diske the starting and losing pitcher for 5-6 Sauk-Prairie and the Eagles are 7-7 overall.
South-Central Conference-Wisconsin Dells 3-1 over Westfield, Dells clinches the outright title with this victory as Colyn Buss continued his fine season on the mound for the Chiefs, allowing six hits with just one walk and four strike-outs in a complete game performance. Wisconsin Dells had only one run on the board through four innings on a Dakota Musiedlak HR but then tallied twice in the fifth with Buss homering in the inning and the Chiefs clinch the title with an 8-1 league record with one game left with Westfield now 6-3. Ashton Mace, Josh Gray and Alex Cimaroli had two hits each in a nine-hit Dells attack. Dells hosts a three-team round-robin today with the Chiefs facing Sauk-Prairie at 9 AM, Sauk vs Jefferson at about 11 AM and Dells takes on Jefferson at about 1 PM. Jefferson comes in as the state's second ranked team in D-2.
Wautoma 2 Adams 1
SWC-Lancaster 4 River Valley 3
Girls Soccer: Stoughton 3 Baraboo 2 OT-Cassie Siedschlag and Jenna Liebfried scored goals for Baraboo who owned the lead in each half but Stoughton tied the match with 11 minutes left in regulation and they won in overtime, dropping Baraboo to 3-9 overall. Alex Tomaw had five saves in goal for the Thunderbirds.
Reedsburg 2 Monroe 0-Kate Fearing had both goals for the Beavers who are enjoying perhaps their best season ever record wise at 8-2-1 overall. Val Evans had one assist and Athena Murdock earns the shutout with seven saves.
Badger North-Mount Horeb 4 Sauk-Prairie 0, Sauk cancelled their non-league match with Fort to play this conference make-up but it was all Mount Horeb with Brooklyn Meyers scoring three goals for the Vikings who end up 3-2 for the conference season. Sauk finishes 2-3 for the conference season and they're 7-8 overall.
Boys Tennis: Baraboo, Reedsburg and Portage all have no entries remaining after day one of the Badger Conference Tournament at UW-Madison.
Saturday-Dells Raceway Park honors veterans tonight as all current or past vets will get free admission by presenting their military ID and all kids under the age of ten will also recieve free admision. Late Models, Sportsman, Pure Stock and Bandits cars race tonight and the Legend cars also will be on hand and fans can redeem last week's ticket stub from the rained out event for admission this week. Fan gates open at 4 PM with qualifuying at 5:15 PM and racing at 7:00
Sunday League Northern Section Home Talent Baseball-Reedsburg at Ashton, Montello at Sauk-Prairie, Black Earth at Cazenovia, Plain at Waunakee, Cross Plains at Richland Center, Mazomanie at Middleton. Caz leads the West Division at 2-0 with Ashton and Middleton at 2-0 in the East Division